Hello community,
Another testing branch update with some usual updates for you.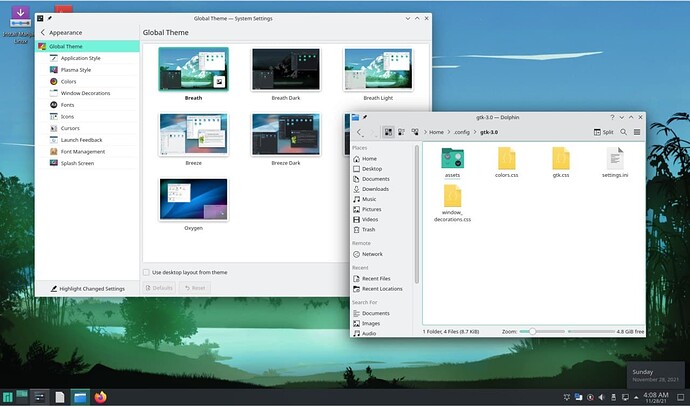 We updated Calamares to support ZFS and other new features
Gnome got some more packages updated to 41.2
More changes were made to our Breath theme
Mesa is now at 21.3.1
Other regular upstream updates
Get our latest daily developer images now from Github: Plasma, Gnome, XFCE. You get the latest stable releases of Manjaro from CDN77.
---
Our current supported kernels
linux44 4.4.293
linux49 4.9.291
linux414 4.14.256
linux419 4.19.219
linux54 5.4.163
linux510 5.10.83
linux514 5.14.21 [EOL]
linux515 5.15.6
linux516 5.16-rc2
linux510-rt 5.10.78_rt55
linux515-rt 5.15.5_rt22
Package Updates (Sun Dec 5 09:42:22 CET 2021)
testing community x86_64: 126 new and 132 removed package(s)
testing core x86_64: 4 new and 4 removed package(s)
testing extra x86_64: 45 new and 39 removed package(s)
testing kde-unstable x86_64: 144 new and 144 removed package(s)
testing multilib x86_64: 9 new and 2 removed package(s)
:: Different overlay package(s) in repository community x86_64

-------------------------------------------------------------------------------
                             PACKAGE           2021-12-02           2021-12-05
-------------------------------------------------------------------------------
                  brave-browser-beta            1.33.94-1            1.34.50-1
                   breath-wallpapers             21.2.0-0           21.2.0-0.1
                                 gdu             5.11.0-1             5.12.0-1
                manjaro-kde-settings           20211130-1           20211204-1
                  nemo-media-columns             5.0.0-12                    -
                      nemo-pdf-tools 1.2.9.0extras20.04.03-10                -
               plasma5-themes-breath             21.2.0-0           21.2.0-0.1
                       python-pypdf2             1.26.0-3                    -
                   sddm-breath-theme             21.2.0-0           21.2.0-0.1
                               tlpui              1.4.0-1            1.4.0.1-1


:: Different sync package(s) in repository community x86_64

-------------------------------------------------------------------------------
                             PACKAGE           2021-12-02           2021-12-05
-------------------------------------------------------------------------------
                      acpi_call-dkms              1.2.1-5              1.2.2-1
                                aerc              0.5.2-2              0.6.0-1
                           alacritty              0.9.0-1              0.9.0-2
                             ansible              5.0.0-1              5.0.1-1
                               b3sum              1.2.0-1              1.2.0-2
                               bazel              4.2.0-2              4.2.2-1
                            binaryen              1:102-1              1:103-1
                             blender          17:2.93.6-1           17:3.0.0-1
                               bower             1.8.12-1             1.8.13-1
                               broot              1.7.3-1              1.7.4-1
                             caprine             2.55.0-1             2.55.1-1
                      cargo-generate             0.11.0-1             0.11.1-1
                   containers-common             0.46.0-6             0.46.0-7
                          cozy-stack           1:1.4.42-1            1:1.5.0-1
                                cuda             11.5.0-1             11.5.1-1
                          cuda-tools             11.5.0-1             11.5.1-1
                                deno             1.16.2-1             1.16.3-1
                              diskus              0.7.0-1              0.7.0-2
                            electron             16.0.3-1             16.0.4-1
                              elixir             1.12.2-1             1.12.3-1
                              espeak          1:1.48.04-3                    -
                        freedroidrpg             1.0rc2-1             1.0rc2-2
                          git-absorb              0.6.6-3              0.6.6-4
                           git-delta             0.10.2-1             0.10.3-1
                               gitea             1.15.6-1             1.15.7-1
                              gitlab             14.3.3-2             14.5.0-1
                         gnome-boxes               41.1-1               41.2-1
                 gnuradio-fcdproplus              3.8.0-9                    -
                                  go           2:1.17.3-1           2:1.17.4-1
                               go-yq             4.15.1-1             4.16.1-1
                            goaccess              1.5.2-1              1.5.3-1
                  gst-plugins-espeak              0.5.0-3              0.5.0-4
                            hedgedoc              1.9.0-1              1.9.2-1
               intel-compute-runtime        21.46.21636-1        21.47.21710-1
                        intel-gmmlib             21.3.2-1             21.3.3-1
             intel-graphics-compiler         1:1.0.9389-1         1:1.0.9441-1
                  intel-media-driver             21.4.1-1             21.4.3-1
                               istio             1.11.4-1             1.11.5-1
                               isync              1.4.3-1              1.4.4-1
                             jenkins              2.322-1              2.323-1
                               jruby            9.3.1.0-1            9.3.2.0-1
                               julia            2:1.6.4-1            2:1.7.0-1
                         kphotoalbum              5.8.1-1              5.8.1-2
                             libjcat              0.1.8-1              0.1.9-1
                            libressl              3.4.1-1              3.4.2-1
                             libvirt            1:7.9.0-1           1:7.10.0-2
             libvirt-storage-gluster            1:7.9.0-1           1:7.10.0-2
        libvirt-storage-iscsi-direct            1:7.9.0-1           1:7.10.0-2
                 libvirt-storage-rbd            1:7.9.0-1           1:7.10.0-2
                             libxmlb              0.3.3-1              0.3.4-1
                      matrix-synapse             1.47.1-1             1.48.0-1
                           maui-clip              2.1.0-1              2.1.0-2
               netfilter-fullconenat      r73.0cf3b48-165      r73.0cf3b48-166
             nextcloud-app-bookmarks           1:10.0.2-1           1:10.0.3-1
              nextcloud-app-calendar            1:3.0.0-1            1:3.0.1-1
                  nextcloud-app-news             16.2.1-1             17.0.0-1
                              nodejs             17.1.0-2             17.1.0-3
                  nodejs-lts-fermium            14.18.1-2            14.18.2-1
                  nodejs-lts-gallium            16.13.0-3            16.13.1-1
                   npm-check-updates             12.0.1-1             12.0.2-1
                              nuitka           0.6.17.7-1             0.6.18-1
                            openshot              2.6.1-2              2.6.1-3
                  papirus-icon-theme           20211101-1           20211201-1
                       perl-cpanplus             0.9912-1             0.9914-1
                    perl-test2-suite           0.000142-1           0.000143-1
                                poke                1.3-1                1.4-1
                          primecount                7.1-1                7.2-1
                          primesieve                7.6-1                7.7-1
                           promscale              0.6.1-1              0.7.1-1
                              pulumi             3.18.1-1             3.19.0-1
                             pyright            1.1.191-1            1.1.192-1
                       python-bowler              0.9.0-1              0.9.0-4
                        python-crc16              0.1.1-7                    -
                   python-diff-cover              6.4.2-1              6.4.3-1
              python-jinja_pluralize              0.3.0-1                    -
              python-language-server             0.36.2-5                    -
                   python-pynitrokey              0.4.5-1              0.4.6-1
                     python-pytaglib              1.4.6-4                    -
               python-spyder-kernels              2.1.3-1              2.2.0-1
                          rebuilderd             0.16.3-1             0.16.5-1
                    rebuilderd-tools             0.16.3-1             0.16.5-1
                                rink              0.6.2-1              0.6.2-2
                                rofi              1.7.1-1              1.7.2-1
                                skim              0.9.4-1              0.9.4-2
                              sn0int             0.23.0-1             0.24.0-1
                              stella              6.5.2-1                6.6-1
                sugar-activity-clock               22.1-1               22.1-2
                     taskwarrior-tui             0.15.0-1             0.16.0-1
                         timescaledb              2.5.0-1              2.5.1-1
                         ttc-iosevka             11.1.1-1             11.2.0-1
                    ttc-iosevka-aile             11.1.1-1             11.2.0-1
                   ttc-iosevka-curly             11.1.1-1             11.2.0-1
              ttc-iosevka-curly-slab             11.1.1-1             11.2.0-1
                  ttc-iosevka-etoile             11.1.1-1             11.2.0-1
                    ttc-iosevka-slab             11.1.1-1             11.2.0-1
                    ttc-iosevka-ss01             11.1.1-1             11.2.0-1
                    ttc-iosevka-ss02             11.1.1-1             11.2.0-1
                    ttc-iosevka-ss03             11.1.1-1             11.2.0-1
                    ttc-iosevka-ss04             11.1.1-1             11.2.0-1
                    ttc-iosevka-ss05             11.1.1-1             11.2.0-1
                    ttc-iosevka-ss06             11.1.1-1             11.2.0-1
                    ttc-iosevka-ss07             11.1.1-1             11.2.0-1
                    ttc-iosevka-ss08             11.1.1-1             11.2.0-1
                    ttc-iosevka-ss09             11.1.1-1             11.2.0-1
                    ttc-iosevka-ss10             11.1.1-1             11.2.0-1
                    ttc-iosevka-ss11             11.1.1-1             11.2.0-1
                    ttc-iosevka-ss12             11.1.1-1             11.2.0-1
                    ttc-iosevka-ss13             11.1.1-1             11.2.0-1
                    ttc-iosevka-ss14             11.1.1-1             11.2.0-1
                    ttc-iosevka-ss15             11.1.1-1             11.2.0-1
                    ttc-iosevka-ss16             11.1.1-1             11.2.0-1
                    ttc-iosevka-ss17             11.1.1-1             11.2.0-1
                    ttc-iosevka-ss18             11.1.1-1             11.2.0-1
                       ttf-fira-code                5.2-1                6.1-1
                   ttf-sarasa-gothic             0.35.1-1             0.35.2-1
                           uglify-js             3.14.3-1             3.14.4-1
         v2ray-domain-list-community     20211126110355-1     20211203092402-1
                         v2ray-geoip       202111250029-1       202112020029-1
                      woff-fira-code                5.2-1                6.1-1
                     woff2-fira-code                5.2-1                6.1-1
                             yoshimi              2.1.2-1            2.1.2.1-1
                      zram-generator              0.3.2-1              1.1.1-1
                                grex                    -              1.3.0-1
                           notcurses                    -              2.4.9-2
              python-boost-histogram                    -              1.2.1-1


:: Different overlay package(s) in repository core x86_64

-------------------------------------------------------------------------------
                             PACKAGE           2021-12-02           2021-12-05
-------------------------------------------------------------------------------
                            linux515             5.15.6-1             5.15.6-2
                    linux515-headers             5.15.6-1             5.15.6-2
                          mkinitcpio                 31-1                 31-2
                      pacman-mirrors             4.23.1-4             4.23.1-5


:: Different overlay package(s) in repository extra x86_64

-------------------------------------------------------------------------------
                             PACKAGE           2021-12-02           2021-12-05
-------------------------------------------------------------------------------
                           calamares             3.2.45-4             3.2.48-1
             calamares-git 3.2.48.r10272.38a9da5ae-1 3.2.48.r10311.b7763f042-1
                gnome-control-center             41.1-1.1               41.2-1
    gnome-control-center-x11-scaling               41.1-2               41.2-1
                  linux515-acpi_call             1.1.0-12             1.1.0-13
                   linux515-bbswitch               0.8-12               0.8-13
                linux515-broadcom-wl      6.30.223.271-12      6.30.223.271-13
               linux515-nvidia-390xx           390.144-12           390.144-13
               linux515-nvidia-470xx             470.86-9            470.86-10
                     linux515-nvidia            495.44-13            495.44-14
                      linux515-r8168          8.049.02-12          8.049.02-13
                  linux515-rtl8723bu           20211104-7           20211104-8
                   linux515-tp_smapi              0.43-12              0.43-13
                linux515-vhba-module          20211023-12          20211023-13
    linux515-virtualbox-host-modules             6.1.30-5             6.1.30-6
                        linux515-zfs             2.1.1-12             2.1.1-13
                             mhwd-db             0.6.5-18             0.6.5-19
                        python-pyqt6              6.2.2-1                    -
                    python-pyqt6-sip             13.2.0-3                    -
                   libva-mesa-driver                    -             21.3.1-0
                                mesa                    -             21.3.1-0
                          mesa-vdpau                    -             21.3.1-0
                         opencl-mesa                    -             21.3.1-0
                        vulkan-intel                    -             21.3.1-0
                  vulkan-mesa-layers                    -             21.3.1-0
                       vulkan-radeon                    -             21.3.1-0
                       vulkan-swrast                    -             21.3.1-0


:: Different sync package(s) in repository extra x86_64

-------------------------------------------------------------------------------
                             PACKAGE           2021-12-02           2021-12-05
-------------------------------------------------------------------------------
                         389-ds-base             2.0.10-3             2.0.11-1
                           appstream             0.14.6-2             0.15.0-1
                        appstream-qt             0.14.6-2             0.15.0-1
                        breeze-icons             5.88.0-1             5.88.0-2
                              cantor            21.08.3-1            21.08.3-2
                   double-conversion              3.1.5-2              3.1.6-1
                           evolution             3.42.1-2             3.42.2-1
                evolution-bogofilter             3.42.1-2             3.42.2-1
               evolution-data-server             3.42.1-3             3.42.2-1
              evolution-spamassassin             3.42.1-2             3.42.2-1
                      gnome-software               41.1-1               41.2-1
    gnome-software-packagekit-plugin               41.1-1               41.2-1
                     gnome-user-docs               41.0-1               41.1-1
                               pango          1:1.48.10-1           1:1.50.0-1
                          pango-docs          1:1.48.10-1           1:1.50.0-1
                             pyside6              6.2.1-1              6.2.2-1
                        python-pyqt6              6.2.1-1              6.2.2-1
                    python-pyqt6-sip             13.1.0-1             13.2.0-3
                           shiboken6              6.2.1-2              6.2.2-1
                              strace               5.14-1               5.15-1
                                yelp               41.1-1               41.2-1
                            yelp-xsl               41.0-1               41.1-1


:: Different overlay package(s) in repository kde-unstable x86_64

-------------------------------------------------------------------------------
                             PACKAGE           2021-12-02           2021-12-05
-------------------------------------------------------------------------------
                      akonadi-search21.08.3.r1155.gaadaf23-121.08.3.r1156.g6960c5a-1
                                 ark21.08.3.r4651.g1fe808a9-121.08.3.r4652.g4e1e01ad-1
                              attica5.88.0.r846.g4eed53e-15.88.0.r847.g561512a-1
                               baloo5.88.0.r3018.gff1b5dc8-15.88.0.r3019.g72d67bef-1
                           bluedevil1:5.23.4.r2315.g434b0464-11:5.23.4.r2316.ge57bb758-1
                            bluez-qt5.88.0.r691.g3a2b65c-15.88.0.r692.g7f5710c-1
                          breeze-gtk5.23.4.r431.g19e285b-15.23.4.r432.g0cd6ad9-1
                        breeze-icons5.88.0.r1855.g5108a990-15.88.0.r1862.gaf3800ba-1
                            discover5.23.4.r8434.ge814f2ea-15.23.4.r8440.g18b07bbe-1
                             dolphin21.08.3.r6754.g2ef87708f-121.08.3.r6756.g9ec88ec1a-1
                               elisa21.08.3.r2807.g3c062ad5-121.08.3.r2809.g6c6e7d87-1
                           filelight21.08.3.r999.gb2156c3-121.08.3.r1000.g72debfa-1
                frameworkintegration5.88.0.r606.g31b6470-15.88.0.r607.g00e04dc-1
                            gwenview21.08.3.r6699.g3d0f70c8-121.08.3.r6702.g298e6190-1
                            index-fm 2.1.0.r13.g00cd246-1 2.1.0.r13.g00cd246-2
                           itinerary21.08.3.r1645.g1a32f33-121.08.3.r1661.g1090ec4-1
                         kactivities5.88.0.r1372.gd84c34e-15.88.0.r1373.g4733f47-1
                   kactivities-stats5.88.0.r381.gf41aa0e-15.88.0.r384.gce9f6d2-1
                              kalarm21.08.3.r6527.g4dde50f7-121.08.3.r6528.g90961de5-1
                            karchive5.88.0.r520.g74320c2-15.88.0.r521.g6bf564d-1
                                kate21.08.3.r18463.g9b3166651-121.08.3.r18466.g157a2cc8e-1
                               kauth5.88.0.r458.g0263a0d-15.88.0.r459.g0ccaa85-1
                             kbackup21.08.3.r402.g4a060a2-121.08.3.r403.g92d4504-1
                          kbookmarks5.88.0.r436.gd114a0d-15.88.0.r437.gd88275d-1
                               kcalc21.08.3.r1549.ga742ed2-121.08.3.r1550.g1816f42-1
                       kcalendarcore5.88.0.r1273.g80ccb9803-15.88.0.r1274.gc78a5be3e-1
                         kcharselect21.08.3.r484.ga2d353b-121.08.3.r485.g78ea609-1
                            kcmutils5.88.0.r571.g9aa95f7-15.88.0.r574.gd82e565-1
                             kcodecs5.88.0.r398.gff70db7-15.88.0.r399.g120e31a-1
                         kcompletion5.88.0.r470.g24dc5ce-15.88.0.r471.g4015189-1
                             kconfig5.88.0.r894.g202b23c-15.88.0.r896.g19fac5e-1
                      kconfigwidgets5.88.0.r648.gd1d1574-15.88.0.r649.ge9296e0-1
                           kcontacts1:5.88.0.r3291.g31025bad-11:5.88.0.r3293.gc0bd98e8-1
                         kcoreaddons5.88.0.r1351.ga07b8642-15.88.0.r1353.g4bb45c53-1
                              kcrash5.88.0.r421.g725c53d-15.88.0.r422.g3fed76d-1
                                kdav1:5.88.0.r1310.g7398b9e-11:5.88.0.r1311.ga16c713-1
                         kdbusaddons5.88.0.r390.g9f2dae3-15.88.0.r391.g49489c6-1
                       kde-cli-tools5.23.4.r1879.g3b8c6a5-15.23.4.r1880.g992d52b-1
                        kdeclarative5.88.0.r948.g4ce30cc-15.88.0.r949.gd97523f-1
                                kded5.88.0.r431.g31e781f-15.88.0.r432.g794b9ed-1
                     kdelibs4support5.88.0.r1055.gccdb2c34-15.88.0.r1056.gf6b3ef9d-1
                       kdepim-addons21.08.3.r4429.gb54e51af-121.08.3.r4430.g3cea1fcd-1
                      kdepim-runtime21.08.3.r15399.g965260123-121.08.3.r15400.g71fc84196-1
                     kdesignerplugin5.88.0.r341.ge4d65c0-15.88.0.r342.gc8d492b-1
                               kdesu5.88.0.r483.g11d3b5e-15.88.0.r484.gd2a88c2-1
                           kdewebkit5.88.0.r288.g0209b11-15.88.0.r289.g794c703-1
                                 kdf21.08.3.r813.g48cc89e-121.08.3.r814.gbb113aa-1
                              kdnssd5.88.0.r333.g0bf36fd-15.88.0.r334.gd40f997-1
                           kdoctools5.88.0.r637.gd4c7959-15.88.0.r638.g50d9d7e-1
                          kemoticons5.88.0.r397.g9a82de8-15.88.0.r398.g943af5f-1
                       kfilemetadata5.88.0.r826.g7a4f523-15.88.0.r827.g75c565d-1
                             kfloppy21.08.3.r769.gd28f087-121.08.3.r771.g168db7a-1
                        kglobalaccel5.88.0.r484.g4143227-15.88.0.r485.g9104503-1
                                kgpg21.08.3.r3140.gc1870899-121.08.3.r3142.gf430f573-1
                          kguiaddons5.88.0.r405.ge20d4a4-15.88.0.r407.g6f85228-1
                  khealthcertificate       r117.3e24d21-1       r118.c30c5c3-1
                           kholidays1:5.88.0.r979.g8bad993-11:5.88.0.r980.gd83220b-1
                               khtml5.88.0.r565.g1ed1005-15.88.0.r566.g8854bd5-1
                               ki18n5.88.0.r522.g26dcbfa-15.88.0.r523.gfab0f6f-1
                         kiconthemes5.88.0.r571.g59cce6d-15.88.0.r573.g4e48ca5-1
                 kidentitymanagement21.08.3.r3849.g2d5fa8e9-121.08.3.r3850.gd130ffc9-1
                           kidletime5.88.0.r331.gbe1544f-15.88.0.r332.g517352b-1
                       kimageformats5.88.0.r368.g957c199-15.88.0.r369.g81603ed-1
                               kinit5.88.0.r423.g5f881a7-15.88.0.r424.gb1a1da6-1
                                 kio5.88.0.r5111.g847625f3-15.88.0.r5114.g82dd90bb-1
                        kipi-plugins21.08.3.r12070.gf8e0cc870-121.08.3.r12072.g573f3dad1-1
                           kirigami25.88.0.r2967.gd5fb7d5b-15.88.0.r2970.g652ba256-1
                         kitemmodels5.88.0.r569.g4af3caa-15.88.0.r570.g05b4681-1
                          kitemviews5.88.0.r351.ga131ef3-15.88.0.r352.g8b3909b-1
                         kjobwidgets5.88.0.r390.g652d2ef-15.88.0.r391.ge5d1732-1
                                 kjs5.88.0.r347.gfc93534-15.88.0.r348.g9fe09cd-1
                            kjsembed5.88.0.r312.g89ca6b7-15.88.0.r313.gcc96775-1
                           kleopatra21.08.3.r6113.g96928c1e-121.08.3.r6115.gfb35bf85-1
                               kmail21.08.3.r26159.gf5f605f02-121.08.3.r26160.gda271c476-1
                        kmediaplayer5.88.0.r303.gdfc9aa0-15.88.0.r304.g7c327a0-1
                           kmenuedit5.23.4.r981.g1932387-15.23.4.r982.g5ea90ec-1
                           knewstuff5.88.0.r1236.gb54190bc-15.88.0.r1237.g887fc8c6-1
                      knotifications5.88.0.r696.g45f0304-15.88.0.r697.gdf26abf-1
                       knotifyconfig5.88.0.r362.g68804d6-15.88.0.r363.ga7f5609-1
                                koko 21.08.r25.gf006354-1 21.08.r29.g72de0f3-1
                             konsole21.08.3.r8126.g7d64c0ef-121.08.3.r8127.g6138b547-1
                            kpackage5.88.0.r712.g8a8c115-15.88.0.r713.gbdd5ea0-1
                              kparts5.88.0.r546.g8da6357-15.88.0.r548.gc0b3950-1
                             kpeople5.88.0.r1355.ge1ed404-15.88.0.r1356.g1a1a1eb-1
                        kpimtextedit21.08.3.r1484.g4cf10fb-121.08.3.r1485.gf506205-1
                           kplotting5.88.0.r304.g0d495cd-15.88.0.r305.g9229510-1
                                kpty5.88.0.r351.gbcae8cd-15.88.0.r352.g6624ef0-1
                        kquickcharts5.88.0.r488.g32fe4f8-15.88.0.r489.ge04c5ab-1
                               kross5.88.0.r343.g14bbf84-15.88.0.r344.g24008ce-1
                             krunner5.88.0.r698.g745c301-15.88.0.r699.gdb49ba9-1
                             kscreen5.23.4.r1396.g6a6091d-15.23.4.r1402.g27d916b-1
                            kservice5.88.0.r965.g9ce4454-15.88.0.r966.g1cf709e-1
                            kteatime21.08.3.r730.g01c8d90-121.08.3.r731.gd0f6ce3-1
                         ktexteditor5.88.0.r3002.gd88d9456-15.88.0.r3003.g9f7670f4-1
                        ktextwidgets5.88.0.r426.g8a3ee73-15.88.0.r427.gb4aa1e2-1
                              ktimer21.08.3.r480.g75b68b3-121.08.3.r481.ga27383e-1
                     kunitconversion5.88.0.r389.g1c6d067-15.88.0.r390.g568a46f-1
                             kwallet5.88.0.r1101.g3b9e653-15.88.0.r1102.ge9eb71b-1
                      kwalletmanager21.08.3.r1219.gb4a9ec6-121.08.3.r1220.g807db3d-1
                            kwayland5.88.0.r1124.ge8e06db-15.88.0.r1125.gbc0d375-1
                      kwidgetsaddons5.88.0.r894.gea8a1d85-15.88.0.r895.g6bb4591e-1
                                kwin5.23.4.r20438.gbf7bdf0be-15.23.4.r20445.g2b628ea41-1
                       kwindowsystem5.88.0.r640.g58dcf23-15.88.0.r642.ge895381-1
                              kwrite21.08.3.r18463.g9b3166651-121.08.3.r18466.g157a2cc8e-1
                             kxmlgui5.88.0.r826.gc616de05-15.88.0.r827.g11c9cc80-1
                       kxmlrpcclient5.88.0.r466.g269fdafa2-15.88.0.r467.g7da4928e7-1
                             libkleo21.08.3.r1035.g8dbf1f6-121.08.3.r1036.gf5f7575-1
                          libkscreen5.23.4.r1608.g8bb4b79-15.23.4.r1609.gcf0921f-1
                           libksieve21.08.3.r1632.g74975a4e-121.08.3.r1633.g0780c9c4-1
                        libksysguard5.23.4.r2325.g14e0bff-15.23.4.r2328.g220fb2c-1
                         libktorrent21.08.3.r541.g9a0b173-121.08.3.r542.g327358a-1
                        markdownpart21.08.3.r90.g7780621-121.08.3.r91.g342ef18-1
                          messagelib21.08.3.r6304.g14ee55e4-121.08.3.r6305.g6864d6ee-1
                     modemmanager-qt5.88.0.r532.g2dee129-15.88.0.r533.g80ddbd1-1
                   networkmanager-qt5.88.0.r1128.g3557a37-15.88.0.r1129.gbc00557-1
                    partitionmanager21.08.3.r1538.g1c5d0f5-121.08.3.r1543.g479c3f4-1
                      plasma-desktop5.23.3.r8830.gd41f32c5c-15.23.3.r8837.g58dbd3650-1
                       plasma-dialer 21.08.r11.g2997fa9-1 21.08.r48.gc2a7157-1
                     plasma-firewall5.23.4.r542.g934ca7f-15.23.4.r546.gbe91b2b-1
                    plasma-framework5.88.0.r16111.g2b4025fcf-15.88.0.r16118.g8923ab970-1
                    plasma-mobile-nm5.23.4.r3135.gcc11ebab-15.23.4.r3141.gdd7b95e6-1
                           plasma-nm5.23.4.r3135.gcc11ebab-15.23.4.r3141.gdd7b95e6-1
             plasma-phone-components5.23.4.r1530.g8ea1e27d-15.23.4.r1532.g9711d4af-1
                plasma-systemmonitor5.23.4.r518.geb343ef-15.23.4.r520.g364bada-1
              plasma-wayland-session5.23.4.r11008.g3a1603a4e-15.23.4.r11016.gbae13fa8c-1
                    plasma-workspace5.23.4.r11008.g3a1603a4e-15.23.4.r11016.gbae13fa8c-1
                          powerdevil5.23.4.r2499.g5ff9737c-15.23.4.r2500.ge95924f4-1
                       print-manager21.08.3.r1071.g0a25c00-121.08.3.r1074.g2891d29-1
                              prison5.88.0.r345.ga85739e-15.88.0.r346.g8c0686f-1
                             purpose5.88.0.r914.g8ddc7bf-15.88.0.r915.ga3823e1-1
                  qqc2-desktop-style5.88.0.r547.g1c0b854-15.88.0.r548.g74173e5-1
                            sddm-kcm5.23.4.r619.g4b4875c-15.23.4.r623.g8730a44-1
                               solid5.88.0.r728.g225f1bb-15.88.0.r729.gc44f590-1
                              sonnet5.88.0.r659.g060e8dd-15.88.0.r660.gc662d58-1
                            spacebar 21.08.r53.g35cfe68-1 21.08.r54.g6ac8729-1
                           spectacle21.08.3.r1218.g9a0b415-121.08.3.r1223.g1cd9a87-1
                             sweeper21.08.3.r541.gcae12ab-121.08.3.r542.g922a662-1
                         syndication5.88.0.r849.gf5776df-15.88.0.r850.gccb1905-1
                 syntax-highlighting5.88.0.r1758.g2a1693ab-15.88.0.r1760.gebc4c57e-1
                      systemsettings5.23.4.r2573.g36d5163b-15.23.4.r2574.g4aab8225-1
                        threadweaver5.88.0.r521.g37d8482-15.88.0.r522.g6a723eb-1
                               vvave  2.1.0.r6.g4abef5d-2  2.1.0.r7.g4f75712-1
              xdg-desktop-portal-kde5.23.4.r397.gb07660a-15.23.4.r408.g218e8c2-1
                             yakuake21.08.3.r741.gc197b08-121.08.3.r742.g4eee24a-1


:: Different overlay package(s) in repository multilib x86_64

-------------------------------------------------------------------------------
                             PACKAGE           2021-12-02           2021-12-05
-------------------------------------------------------------------------------
             lib32-libva-mesa-driver                    -             21.3.1-0
                          lib32-mesa                    -             21.3.1-0
                    lib32-mesa-vdpau                    -             21.3.1-0
                   lib32-opencl-mesa                    -             21.3.1-0
                  lib32-vulkan-intel                    -             21.3.1-0
            lib32-vulkan-mesa-layers                    -             21.3.1-0
                 lib32-vulkan-radeon                    -             21.3.1-0


:: Different sync package(s) in repository multilib x86_64

-------------------------------------------------------------------------------
                             PACKAGE           2021-12-02           2021-12-05
-------------------------------------------------------------------------------
                         lib32-pango          1:1.48.10-1           1:1.50.0-1
                                wine               6.22-1               6.23-1

No issue, everything went smoothly
Yes there was an issue. I was able to resolve it myself.(Please post your solution)
Yes i am currently experiencing an issue due to the update. (Please post about it)
Check if your mirror has already synced: