Over the last few months I've been using 4 different computers running Manjaro-Plasma, and in regards to running a BASH shell in a terminal emulator (such as Konsole), 3 of them behave as you would expect: since such shells are "non-login interactive", the files "/etc/bash.bashrc" and "~/.bashrc" are sourced, in that order.
Not so on the fourth computer! My Asus notebook which I call "Avalon", which runs Manjaro-Plasma, has a totally different behavior! On launching Konsole (or any other terminal emulator), it launches a non-login interactive BASH shell (as normal), but it appears to have already sourced "/etc/profile" (apparently once-only, at startup), and it does not source "/etc/profile" again at shell launch, and it does not source "/etc/bash.bashrc", and it does not source "~/.bashrc".
See attached images with key diagnostics.
The first image shows what should happen on the left (from the Arch Wiki page on BASH), and what actually happens on the right. Note that the shell is non-login (shopt login_shell is unset) and interactive (note the "i" in $-). And yet, I have to source "/etc/bash.bashrc" and "~/.bashrc" manually: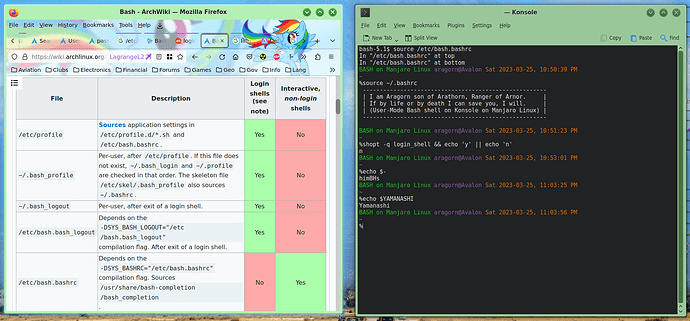 The second image shows that the problem is not limited to Konsole. I also installed and ran "UXTerm", "Terminal", and "QTerminal", and they're all doing the same wrong thing. So it's something deeper than a per-app issue: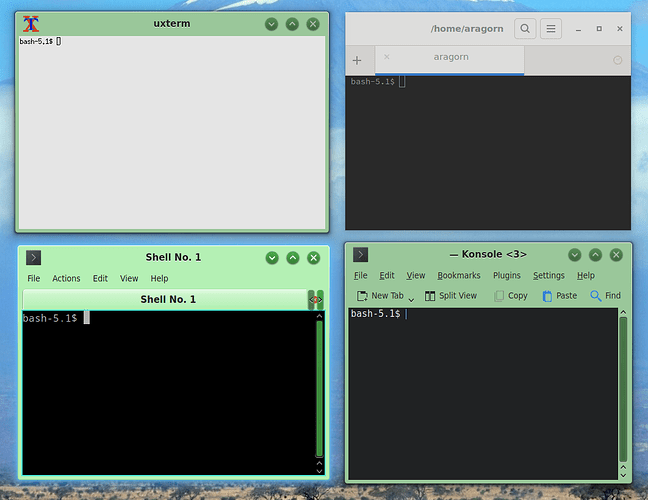 So… what could be causing BASH to act in such an odd way on this one computer? I mean, sure, I can manually type "source /etc/bash.bashrc" and "source ~/.bashrc" each time I launch Konsole, but I shouldn't have to.