recently I've purchased a tender wifi receiver(usb). when I plugin on windows installed pc its works perfectly. but when I plug it on manjaro installed pc its not detecting anything?
here is that device…

this show on windows… & wifi receiver provides a small driver to install then its work.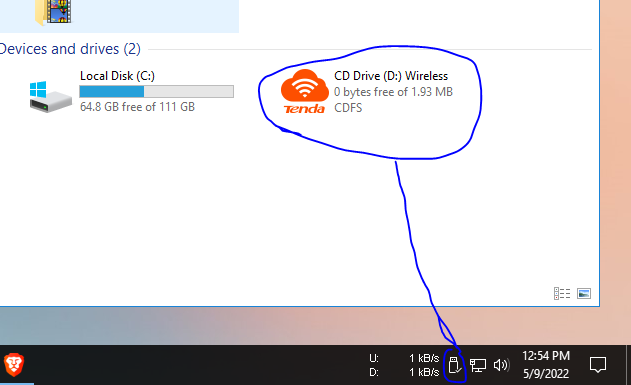 output of: inxi --admin --verbosity=7 --filter --no-host --width
System:
  Kernel: 5.15.28-1-MANJARO x86_64 bits: 64 compiler: gcc v: 11.2.0
    parameters: BOOT_IMAGE=/boot/vmlinuz-x86_64 lang=en_US keytable=us tz=UTC
    misobasedir=manjaro misolabel=MANJARO_XFCE_2125 quiet
    systemd.show_status=1 apparmor=1 security=apparmor driver=free
    nouveau.modeset=1 i915.modeset=1 radeon.modeset=1
  Desktop: Xfce 4.16.0 tk: Gtk 3.24.29 info: xfce4-panel wm: xfwm 4.16.1
    vt: 7 dm: LightDM 1.30.0 Distro: Manjaro Linux base: Arch Linux
Machine:
  Type: Desktop Mobo: ASUSTeK model: P8H61-M LX2 R2.0 v: Rev X.0x
    serial: <superuser required> BIOS: American Megatrends v: 0605
    date: 07/03/2012
Battery:
  Message: No system battery data found. Is one present?
Memory:
  RAM: total: 3.53 GiB used: 1.61 GiB (45.7%)
  RAM Report:
    permissions: Unable to run dmidecode. Root privileges required.
CPU:
  Info: model: Intel Pentium G620 bits: 64 type: MCP arch: Sandy Bridge
    family: 6 model-id: 0x2A (42) stepping: 7 microcode: 0x26
  Topology: cpus: 1x cores: 2 smt: <unsupported> cache: L1: 128 KiB
    desc: d-2x32 KiB; i-2x32 KiB L2: 512 KiB desc: 2x256 KiB L3: 3 MiB
    desc: 1x3 MiB
  Speed (MHz): avg: 1600 min/max: 1600/2600 scaling: driver: intel_cpufreq
    governor: schedutil cores: 1: 1600 2: 1600 bogomips: 10405
  Flags: acpi aperfmperf apic arat arch_perfmon bts clflush cmov
    constant_tsc cpuid cx16 cx8 de ds_cpl dtes64 dtherm dts epb est fpu fxsr ht
    lahf_lm lm mca mce mmx monitor msr mtrr nonstop_tsc nopl nx pae pat pbe
    pcid pclmulqdq pdcm pebs pge pln pni popcnt pse pse36 pti pts rdtscp
    rep_good sep sse sse2 sse4_1 sse4_2 ssse3 syscall tm tm2 tsc
    tsc_deadline_timer vme xsave xsaveopt xtopology xtpr
  Vulnerabilities:
  Type: itlb_multihit status: KVM: VMX unsupported
  Type: l1tf mitigation: PTE Inversion
  Type: mds
    status: Vulnerable: Clear CPU buffers attempted, no microcode; SMT disabled
  Type: meltdown mitigation: PTI
  Type: spec_store_bypass status: Vulnerable
  Type: spectre_v1
    mitigation: usercopy/swapgs barriers and __user pointer sanitization
  Type: spectre_v2 mitigation: Retpolines, STIBP: disabled, RSB filling
  Type: srbds status: Not affected
  Type: tsx_async_abort status: Not affected
Graphics:
  Device-1: Intel 2nd Generation Core Processor Family Integrated Graphics
    vendor: ASUSTeK driver: i915 v: kernel ports: active: VGA-1
    empty: DP-1,HDMI-A-1 bus-ID: 00:02.0 chip-ID: 8086:0102 class-ID: 0300
  Display: x11 server: X.Org v: 1.21.1.3 compositor: xfwm v: 4.16.1 driver:
    X: loaded: modesetting alternate: fbdev,vesa gpu: i915 display-ID: :0.0
    screens: 1
  Screen-1: 0 s-res: 1024x768 s-dpi: 96 s-size: 270x203mm (10.6x8.0")
    s-diag: 338mm (13.3")
  Monitor-1: VGA-1 res: 1024x768 hz: 60 size: N/A modes: max: 1024x768
    min: 640x480
  Message: Unable to show GL data. Required tool glxinfo missing.
Audio:
  Device-1: Intel 6 Series/C200 Series Family High Definition Audio
    vendor: ASUSTeK driver: snd_hda_intel v: kernel bus-ID: 00:1b.0
    chip-ID: 8086:1c20 class-ID: 0403
  Sound Server-1: ALSA v: k5.15.28-1-MANJARO running: yes
  Sound Server-2: JACK v: 1.9.20 running: no
  Sound Server-3: PulseAudio v: 15.0 running: yes
  Sound Server-4: PipeWire v: 0.3.48 running: yes
Network:
  Device-1: Realtek RTL8111/8168/8411 PCI Express Gigabit Ethernet
    vendor: ASUSTeK P8 series driver: r8169 v: kernel pcie: gen: 1
    speed: 2.5 GT/s lanes: 1 port: e000 bus-ID: 05:00.0 chip-ID: 10ec:8168
    class-ID: 0200
  IF: enp5s0 state: down mac: <filter>
  Device-2: Realtek RTL8188GU 802.11n WLAN Adapter (After Modeswitch)
    type: USB driver: N/A bus-ID: 2-1.4:7 chip-ID: 0bda:b711 class-ID: 0000
    serial: <filter>
  WAN IP: No WAN IP found. Connected to web? SSL issues? Try enabling dig
Bluetooth:
  Message: No bluetooth data found.
Logical:
  Message: No logical block device data found.
RAID:
  Message: No RAID data found.
Drives:
  Local Storage: total: 140.7 GiB used: 0 KiB (0.0%)
  SMART Message: Unable to run smartctl. Root privileges required.
  ID-1: /dev/sda maj-min: 8:0 vendor: Western Digital model: WD SSD 120GB
    size: 111.79 GiB block-size: physical: 512 B logical: 512 B speed: <unknown>
    type: SSD serial: <filter> rev: 0108 scheme: MBR
  ID-2: /dev/sdb maj-min: 8:16 type: USB model: USB DISK 3.0 size: 28.91 GiB
    block-size: physical: 512 B logical: 512 B speed: <unknown> type: N/A
    serial: <filter> rev: PMAP scheme: MBR
  SMART Message: Unknown USB bridge. Flash drive/Unsupported enclosure?
  Message: No optical or floppy data found.
Partition:
  Message: No partition data found.
Swap:
  Alert: No swap data was found.
Unmounted:
  ID-1: /dev/dm-0 maj-min: 254:0 mapped: ventoy size: 3.33 GiB fs: iso9660
  ID-2: /dev/sda1 maj-min: 8:1 size: 549 MiB fs: ntfs label: System Reserved
    uuid: 3CD0F0B6D0F0778A
  ID-3: /dev/sda2 maj-min: 8:2 size: 111.25 GiB fs: ntfs label: N/A
    uuid: 5CF6F41AF6F3F1DE
  ID-4: /dev/sdb1 maj-min: 8:17 size: 28.88 GiB fs: exfat label: Ventoy
    uuid: 4E21-0000
  ID-5: /dev/sdb2 maj-min: 8:18 size: 32 MiB fs: vfat label: VTOYEFI
    uuid: 0922-588F
USB:
  Hub-1: 1-0:1 info: Full speed or root hub ports: 2 rev: 2.0 speed: 480 Mb/s
    chip-ID: 1d6b:0002 class-ID: 0900
  Hub-2: 1-1:2 info: Intel Integrated Rate Matching Hub ports: 4 rev: 2.0
    speed: 480 Mb/s chip-ID: 8087:0024 class-ID: 0900
  Hub-3: 2-0:1 info: Full speed or root hub ports: 2 rev: 2.0
    speed: 480 Mb/s chip-ID: 1d6b:0002 class-ID: 0900
  Hub-4: 2-1:2 info: Intel Integrated Rate Matching Hub ports: 6 rev: 2.0
    speed: 480 Mb/s chip-ID: 8087:0024 class-ID: 0900
  Device-1: 2-1.2:3 info: Kingston SP Mobile C31 (64GB) type: Mass Storage
    driver: usb-storage interfaces: 1 rev: 2.1 speed: 480 Mb/s power: 498mA
    chip-ID: 13fe:6300 class-ID: 0806 serial: <filter>
  Device-2: 2-1.3:4 info: USB OPTICAL MOUSE type: Mouse
    driver: hid-generic,usbhid interfaces: 1 rev: 1.1 speed: 1.5 Mb/s
    power: 100mA chip-ID: 0000:3825 class-ID: 0301
  Device-3: 2-1.4:7
    info: Realtek RTL8188GU 802.11n WLAN Adapter (After Modeswitch) type: WiFi
    driver: N/A interfaces: 1 rev: 2.0 speed: 480 Mb/s power: 500mA
    chip-ID: 0bda:b711 class-ID: 0000 serial: <filter>
  Device-4: 2-1.6:5 info: CASUE USB KB type: Keyboard,HID
    driver: hid-generic,usbhid interfaces: 2 rev: 1.1 speed: 1.5 Mb/s
    power: 100mA chip-ID: 2a7a:938f class-ID: 0300
Sensors:
  System Temperatures: cpu: 64.0 C mobo: 27.8 C
  Fan Speeds (RPM): N/A
Info:
  Processes: 174 Uptime: 3m wakeups: 0 Init: systemd v: 250 tool: systemctl
  Compilers: gcc: 11.2.0 clang: 13.0.1 Packages: pacman: 1151 lib: 319
  flatpak: 0 Shell: Bash v: 5.1.16 running-in: xfce4-terminal inxi: 3.3.13