After doing an update, my desktop theme starts showing the wrong system theme that I have set.
On the left there is GNOME Adwaita theme, which is NOT what my current theme is. My current as shown on the right is Cinnamon Arc-Darker Theme.

I really hate that ugly Adwaita fallback theme, I never selected this as my theme, and is not my default set theme, but for some reason this theme is overriding my set default theme for certain save prompts, such as my web browser.
For comparison's sake, on the left Vivaldi shows Adwaita theme on the Save As window, and Firefox on the right shows my actual theme Arc Darker which is what it's supposed to be.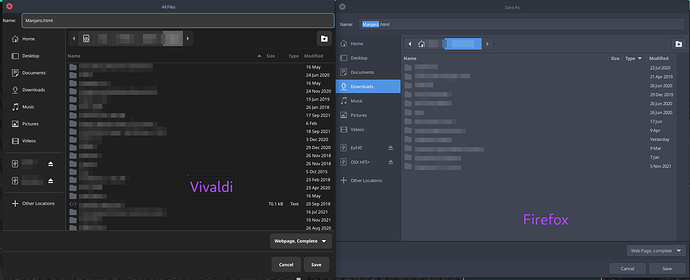 One random update and all a sudden GNOME themes overriding my default set system theme, breaking consistency with the overall looks. I couldn't find anywhere in my theme settings where it chooses Adwaita over my chosen theme which by the is a GTK2/GTK3 theme.
The ONLY Adwaita set theme is for the cursor, and that is all. Nowhere does it say using Adwaita for Desktop, Window Border, Icons or Controls. Unless there's some hidden GNOME setting somewhere that's overriding my defaults, which shouldn't be a thing. This isn't just limited to web browser btw, this is for other GNOME apps too.