Hi, I'm on Manjaro KDE 21.0.5. I was testing GTK themes from some articles in ArchWiki, using Manjaro Hello. When I went to applications, I got the following: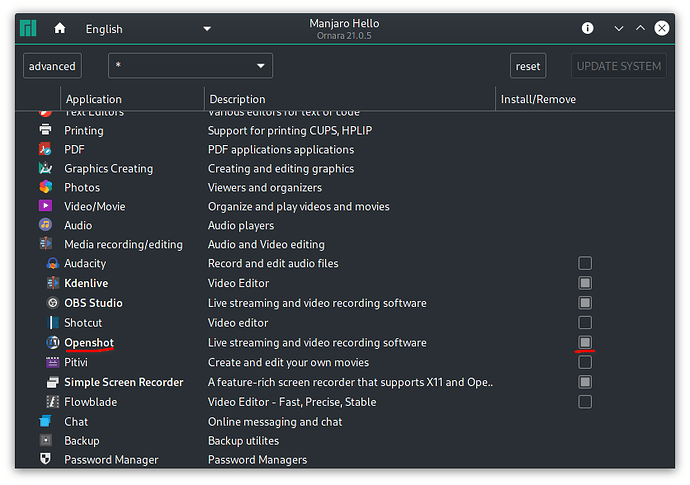 However, I never recall installing openshot, neither using pacman nor pamac.
Pacman gives me this btw:
$ pacman -Qq openshot
error: package 'openshot' was not found

When I try to untick that openshot and click update system, manjaro hello requests my password and tells me that obs-studio will be removed. I checked the dependencies from pamac and openshot is not a dependency of obs-studio, making things more complicated.
So, is this something to be worried of? Like someone remotely controlling my system and grabbing my screen? Or is this just a false alarm?

System info

$ inxi -Fxzm
perl: warning: Setting locale failed.
perl: warning: Please check that your locale settings:
        LANGUAGE = "",
        LC_ALL = (unset),
        LC_ADDRESS = "en_NZ.UTF-8",
        LC_NAME = "en_NZ.UTF-8",
        LC_MONETARY = "en_001.UTF-8",
        LC_PAPER = "en_NZ.UTF-8",
        LC_IDENTIFICATION = "en_NZ.UTF-8",
        LC_TELEPHONE = "en_NZ.UTF-8",
        LC_MEASUREMENT = "en_001.UTF-8",
        LC_TIME = "en_001.UTF-8",
        LC_COLLATE = "en_001.UTF-8",
        LC_NUMERIC = "en_001.UTF-8",
        LANG = "en_001.UTF-8"
    are supported and installed on your system.
perl: warning: Falling back to the standard locale ("C").
System:    Kernel: 5.4.118-1-MANJARO x86_64 bits: 64 compiler: gcc v: 10.2.0 Desktop: KDE Plasma 5.21.5 Distro: Manjaro Linux 
           base: Arch Linux 
Machine:   Type: Laptop System: HP product: HP Laptop 14-bw0xx v: N/A serial: <filter> 
           Mobo: HP model: 8324 v: 22.27 serial: <filter> UEFI: AMI v: F.28 date: 04/09/2019 
Battery:   ID-1: BAT0 charge: 17.8 Wh (56.0%) condition: 31.8/31.8 Wh (100.0%) volts: 15.2 min: 14.6 model: HP Primary 
           status: Discharging 
Memory:    RAM: total: 3.29 GiB used: 2.37 GiB (72.1%) 
           RAM Report: permissions: Unable to run dmidecode. Root privileges required. 
CPU:       Info: Dual Core model: AMD E2-9000e RADEON R2 4 COMPUTE CORES 2C+2G bits: 64 type: MCP arch: Excavator rev: 0 
           cache: L2: 1024 KiB 
           flags: avx avx2 lm nx pae sse sse2 sse3 sse4_1 sse4_2 sse4a ssse3 svm bogomips: 5991 
           Speed: 1110 MHz min/max: 1100/1500 MHz boost: enabled Core speeds (MHz): 1: 1110 2: 1136 
Graphics:  Device-1: Advanced Micro Devices [AMD/ATI] Stoney [Radeon R2/R3/R4/R5 Graphics] vendor: Hewlett-Packard 
           driver: amdgpu v: kernel bus-ID: 00:01.0 
           Device-2: Sunplus Innovation HP TrueVision HD Camera type: USB driver: uvcvideo bus-ID: 1-1.3:3 
           Display: x11 server: X.Org 1.20.11 driver: loaded: amdgpu,ati unloaded: modesetting s-res: 1366x768 
           OpenGL: renderer: AMD STONEY (DRM 3.35.0 5.4.118-1-MANJARO LLVM 11.1.0) v: 4.5 Mesa 21.0.3 direct render: Yes 
Audio:     Device-1: Advanced Micro Devices [AMD/ATI] vendor: Hewlett-Packard driver: snd_hda_intel v: kernel bus-ID: 00:01.1 
           Device-2: Advanced Micro Devices [AMD] Family 15h Audio vendor: Hewlett-Packard driver: snd_hda_intel v: kernel 
           bus-ID: 00:09.2 
           Sound Server-1: ALSA v: k5.4.118-1-MANJARO running: yes 
           Sound Server-2: JACK v: 0.125.0 running: no 
           Sound Server-3: PulseAudio v: 14.2 running: yes 
           Sound Server-4: PipeWire v: 0.3.28 running: yes 
Network:   Device-1: Realtek RTL8111/8168/8411 PCI Express Gigabit Ethernet vendor: Hewlett-Packard driver: r8168 
           v: 8.048.03-NAPI port: e000 bus-ID: 02:00.0 
           IF: eno1 state: down mac: <filter> 
           Device-2: Intel Dual Band Wireless-AC 3168NGW [Stone Peak] driver: iwlwifi v: kernel port: e000 bus-ID: 03:00.0 
           IF: wlo1 state: up mac: <filter> 
           IF-ID-1: virbr0 state: down mac: <filter> 
Bluetooth: Device-1: Intel Wireless-AC 3168 Bluetooth type: USB driver: btusb v: 0.8 bus-ID: 1-1.4:4 
           Report: rfkill ID: hci0 rfk-id: 3 state: down bt-service: enabled,running rfk-block: hardware: no software: yes 
           address: see --recommends 
Drives:    Local Storage: total: 465.76 GiB used: 85.09 GiB (18.3%) 
           ID-1: /dev/sda vendor: Western Digital model: WD5000LPCX-60VHAT0 size: 465.76 GiB 
Partition: ID-1: / size: 31.37 GiB used: 18.96 GiB (60.4%) fs: ext4 dev: /dev/sda4 
           ID-2: /boot/efi size: 256 MiB used: 84.7 MiB (33.1%) fs: vfat dev: /dev/sda1 
           ID-3: /home size: 191.97 GiB used: 65.95 GiB (34.4%) fs: ext4 dev: /dev/sda5 
Swap:      ID-1: swap-1 type: partition size: 5 GiB used: 96.6 MiB (1.9%) dev: /dev/sda6 
Sensors:   System Temperatures: cpu: 35.5 C mobo: N/A gpu: amdgpu temp: 35.0 C 
           Fan Speeds (RPM): N/A 
Info:      Processes: 186 Uptime: 5h 19m Init: systemd Compilers: gcc: 10.2.0 clang: 11.1.0 Packages: 1585 Shell: Bash 
           v: 5.1.8 inxi: 3.3.04

Probable steps to reproduce the issue

Install Manjaro KDE 21.0.5
On Manjaro Hello, go to applications and choose to install OBS Studio
Use your PC normally for a few days, with turning it off everyday
Open Manjaro Hello again
Go to applications
Openshot will appear to be installed