Hello community,
Another stable branch update with some usual updates for you.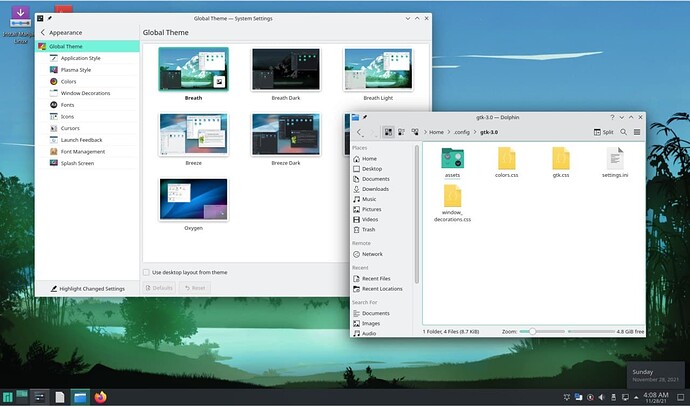 Most of our Kernels got updated. Note that 5.14 is marked EOL and 5.13 removed from our servers …
Some of our packages got rebuilt against icu 70.1.
VirtualBox got updated to 6.1.30
LibreOffice 7.2.3 is now available
We reorganized our default Plasma Theme Breath. Find more information about the move in a separate thread: Testers needed: Manjaro KDE massive cleanup/rename
We updated some of our gnome-shell-extensions
Some more Python2 cleanup was done
Mkinitcpio got updated. Report back any issues you may have
Plasma is now at 5.23.4
There is now a new split-package call mesa-utils
Some Gnome packages got upated to 41.2
More changes were made to our Breath theme
We updated Calamares to support ZFS and other new features
Gnome got some more packages updated to 41.2
Systemd 249.7 got added
Haskell packages got renewed
Wine is now at 6.23
Other regular upstream updates
Get our latest daily developer images now from Github: Plasma, Gnome, XFCE. You get the latest stable releases of Manjaro from CDN77.
---
Our current supported kernels
linux44 4.4.293
linux49 4.9.291
linux414 4.14.256
linux419 4.19.219
linux54 5.4.163
linux510 5.10.83
linux514 5.14.21 [EOL]
linux515 5.15.6
linux516 5.16-rc4
linux510-rt 5.10.83_rt58
linux515-rt 5.15.5_rt22
Package Updates (Tue Dec 7 19:05:26 CET 2021)
stable community x86_64: 1826 new and 1822 removed package(s)
stable core x86_64: 58 new and 60 removed package(s)
stable extra x86_64: 706 new and 825 removed package(s)
stable kde-unstable x86_64: 392 new and 390 removed package(s)
stable multilib x86_64: 25 new and 24 removed package(s)
A detailed list of all package changes can be found here.
No issue, everything went smoothly
Yes there was an issue. I was able to resolve it myself.(Please post your solution)
Yes i am currently experiencing an issue due to the update. (Please post about it)
Check if your mirror has already synced: