Hello community,
Another stable branch update with some usual updates for you. One of the highlights is the new Pahvo Release.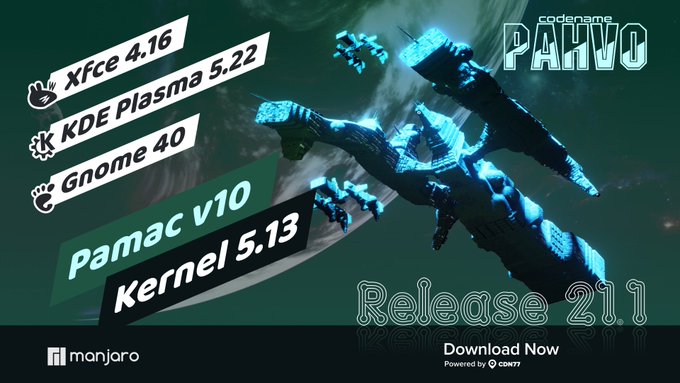 Most of our Kernels got updated. Note that 5.12 series is now marked EOL.
KDE Software got renewed: KDE Gear 21.08.0, KDE Frameworks 5.85.0
Wine is at 6.15
Mate 1.26.0 got released
Thunderbird and Firefox got renewed
Latest Nvidia driver brings in Vulkan fixes
A new AMDVLK driver update got added
Some KDE-git and Python updates
Other regular upstream updates
Get our latest daily developer images now from Github: Plasma, Gnome, XFCE. You get the latest stable releases of Manjaro from CDN77.
---
Our current supported kernels
linux44 4.4.281
linux49 4.9.280
linux414 4.14.244
linux419 4.19.204
linux54 5.4.141
linux510 5.10.59
linux512 5.12.19 [EOL]
linux513 5.13.11
linux514 5.14-rc6
linux510-rt 5.10.52_rt47
Package Updates (Mon Aug 16 17:20:11 CEST 2021)
stable community x86_64: 533 new and 483 removed package(s)
stable core x86_64: 29 new and 29 removed package(s)
stable extra x86_64: 692 new and 855 removed package(s)
stable kde-unstable x86_64: 358 new and 358 removed package(s)
stable multilib x86_64: 15 new and 15 removed package(s)
A list of all package changes can be found here.
No issue, everything went smoothly
Yes there was an issue. I was able to resolve it myself.(Please post your solution)
Yes i am currently experiencing an issue due to the update. (Please post about it)
Check if your mirror has already synced: