I often have multiple tabs open in firefox for several youtube videos, usually a song in one and a tutorial or some other content in another. If I open pavucontrol, each of these browser tabs has its own individual sound level represented in the UI as a playback stream. For this post I tested with three videos: one from Linus Tech Tips, one from The Linux Experiment, and a song from Melodicka Bros.
I had all levels set to 100% and they stayed there when paused: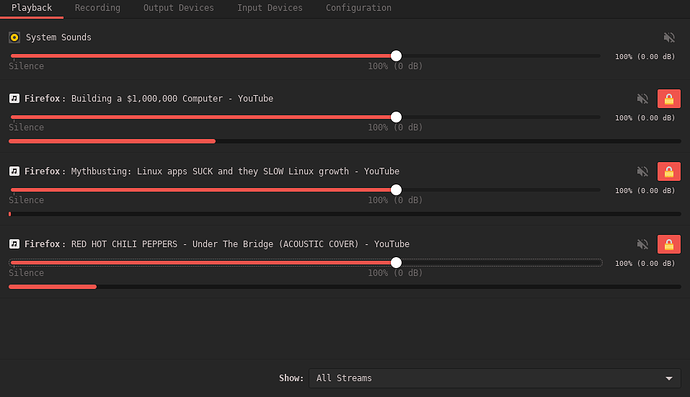 Then I resumed the song tab and it dropped to 93%: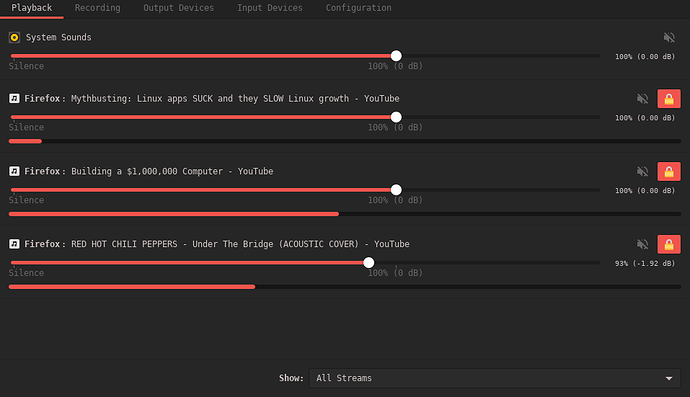 After these tests, I clicked around to other videos, started different songs, paused and changed tabs then came back and resumed, and the sound levels would only change occasionally for various tabs, and the levels would be a seemingly random value somewhere between 60-99%. I have not been able to identify any specific trend or pattern with which tabs have the levels change
I'm using pipewire, with wireplumber installed, but this behavior occurred with pulseaudio as well.
Has anyone seen this before, and know how to prevent these levels from shifting around all the time?
EDIT: Just experienced this with a single video playing, while it was playing the window lost focus, and the volume dropped from 100% to 83% on its own.