Hello everyone. I've been having some issues with the wifi on Manjaro lately. I've tried upgrading and downgrading the kernel from 5.8 to 5.10 to 5.9 and there has been no improvement, so that's not the issue. Right now my wifi looks like this in the network-manager applet: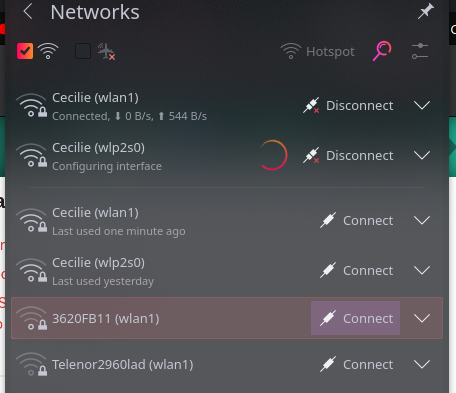 As you can see my wifi has split in two… twice! And the connection is fairly unreliable too.
Inxi -F returns
 System:    Host: sentientcatAI Kernel: 5.9.16-1-MANJARO x86_64 bits: 64 Desktop: KDE Plasma 5.20.5 Distro: Manjaro Linux 
Machine:   Type: Laptop System: LENOVO product: 81W0 v: IdeaPad 3 14ADA05 serial: <superuser required> 
       Mobo: LENOVO model: LNVNB161216 v: SDK0R32891WIN serial: <superuser required> UEFI: LENOVO v: E8CN21WW 
       date: 05/29/2020 
Battery:   ID-1: BAT0 charge: 30.1 Wh condition: 31.6/35.3 Wh (89%) 
CPU:       Info: Dual Core model: AMD Ryzen 3 3250U with Radeon Graphics bits: 64 type: MT MCP L2 cache: 1024 KiB 
       Speed: 1395 MHz min/max: 1400/2600 MHz Core speeds (MHz): 1: 1395 2: 1395 3: 1393 4: 1392 
Graphics:  Device-1: Advanced Micro Devices [AMD/ATI] Picasso driver: amdgpu v: kernel 
       Device-2: Syntek Integrated Camera type: USB driver: uvcvideo 
       Display: x11 server: X.Org 1.20.10 driver: loaded: amdgpu,ati unloaded: modesetting resolution: 1920x1080~60Hz 
       OpenGL: renderer: AMD Radeon Vega 3 Graphics (RAVEN2 DRM 3.39.0 5.9.16-1-MANJARO LLVM 11.0.1) v: 4.6 Mesa 20.3.4 
Audio:     Device-1: Advanced Micro Devices [AMD/ATI] Raven/Raven2/Fenghuang HDMI/DP Audio driver: snd_hda_intel 
       Device-2: Advanced Micro Devices [AMD] Raven/Raven2/FireFlight/Renoir Audio Processor driver: N/A 
       Device-3: Advanced Micro Devices [AMD] Family 17h HD Audio driver: snd_hda_intel 
       Sound Server: ALSA v: k5.9.16-1-MANJARO 
Network:   Device-1: Realtek RTL8822CE 802.11ac PCIe Wireless Network Adapter driver: rtl88x2ce 
       IF: wlan1 state: up mac: 2a:cd:c4:50:d9:09 
       IF-ID-1: wlp2s0 state: down mac: f2:63:60:d0:70:bb 
Bluetooth: Device-1: Realtek Bluetooth Radio type: USB driver: btusb 
       Message: Required tool hciconfig not installed. Check --recommends 
Drives:    Local Storage: total: 119.24 GiB used: 65.46 GiB (54.9%) 
       ID-1: /dev/nvme0n1 vendor: Toshiba model: KBG40ZMT128G MEMORY size: 119.24 GiB 
Partition: ID-1: / size: 81.26 GiB used: 65.43 GiB (80.5%) fs: ext4 dev: /dev/nvme0n1p5 
       ID-2: /boot/efi size: 256 MiB used: 28.5 MiB (11.1%) fs: vfat dev: /dev/nvme0n1p1 
Swap:      Alert: No Swap data was found. 
Sensors:   System Temperatures: cpu: 64.8 C mobo: N/A gpu: amdgpu temp: 64.0 C 
       Fan Speeds (RPM): N/A 
Info:      Processes: 312 Uptime: 1d 15h 43m Memory: 17.52 GiB used: 10.25 GiB (58.5%) Shell: Bash inxi: 3.3.01 

This driver is pretty unreliable, and before I modprobed 88x2ce my wifi used to drop every 20 minutes for about 2-3 minutes. I've not been able to install any other modules or probes on my copy of Manjaro.
Any ideas? Please tell me if there's any more information I need to provide.
Cheers!