Hi,
Is there a way to set a simple Keyboard shortcut that allows me to type the £ symbol without the long winded ctrl + shift [u a 3] sequence.?
Ideally Id like it to be alt+3 or alt+shift+3
My laptop is Japanese KB layout. Ill need to use £ as the main currency when I move to the UK next month. It needs to be a simple shortcut, Ill be typing it often.
The command attempt below doesnt work, is there something like that I can set up?
Im not sure if its possible to return a result via command in this way.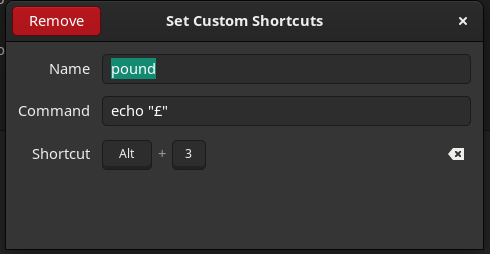 Manjaro 21.1.4 Gnome 40.4