Hello guys,
I created a script that automatically updates your Manjaro system on every shutdown, but not at reboot, This ensures that you can continue to use your PC without having to wait for your system to finish updating! looking at you Windows
The GitHub page with installation instructions & additional information can be found here:
UPDATING YOUR SYSTEM AUTOMATICALLY MIGHT RESULT IN A BRICKED AND UNUSABLE SYSTEM! I'M NOT RESPONSIBLE SHOULD THIS HAPPEN, YOU HAVE BEEN WARNED!
This being said, the script runs on two different systems since about two months without any issues. If your software is not too exquisite (like many AUR packages) and you use the STABLE branch of Manjaro, you should be fine.
---
THIS SCRIPT IS ONLY(!) THOUGHT FOR MANJARO-BASED INSTALLATIONS AND NOTHING ELSE! IT WILL NOT WORK AS INTENDED OR MAKE THE SYSTEM UNUSABLE ON OTHER SYSTEMS! USE AT YOUR OWN RISK!
This script will install my custom script to update your system when it's being shutdown. It is tested on Manjaro 21.1.6, but should work on future versions as well.
The script requires root privileges to copy the files to the corresponding locations.
This script also includes a service that updates your flatpak and snap packages at startup.
In order for the script to work, you need to install Plymouth using the installation guide here: Plymouth - Manjaro A step-by-step explanation on what to do is also given on the github page!
Pamac (the default package manager) is used to update the system!
Features
automatically search for updates at shutdown
update at shutdown only, not at reboots
use systemd to stay compatible over system updates
integration with all Manjaro flavors
graphical integration with progress bars
updates your flatpak and snap packages at startup
independant of the desktop environment
logs are saved at /var/log/manjaro-automatic-update/
only apply updates when battery is charged to 50% and connected to power (notebook only)
Known Issues
requires Plymouth
Automatically updating the system is not recommended and can potentially break your system! Do not expect help in the official forum should this script break your system!
Pictures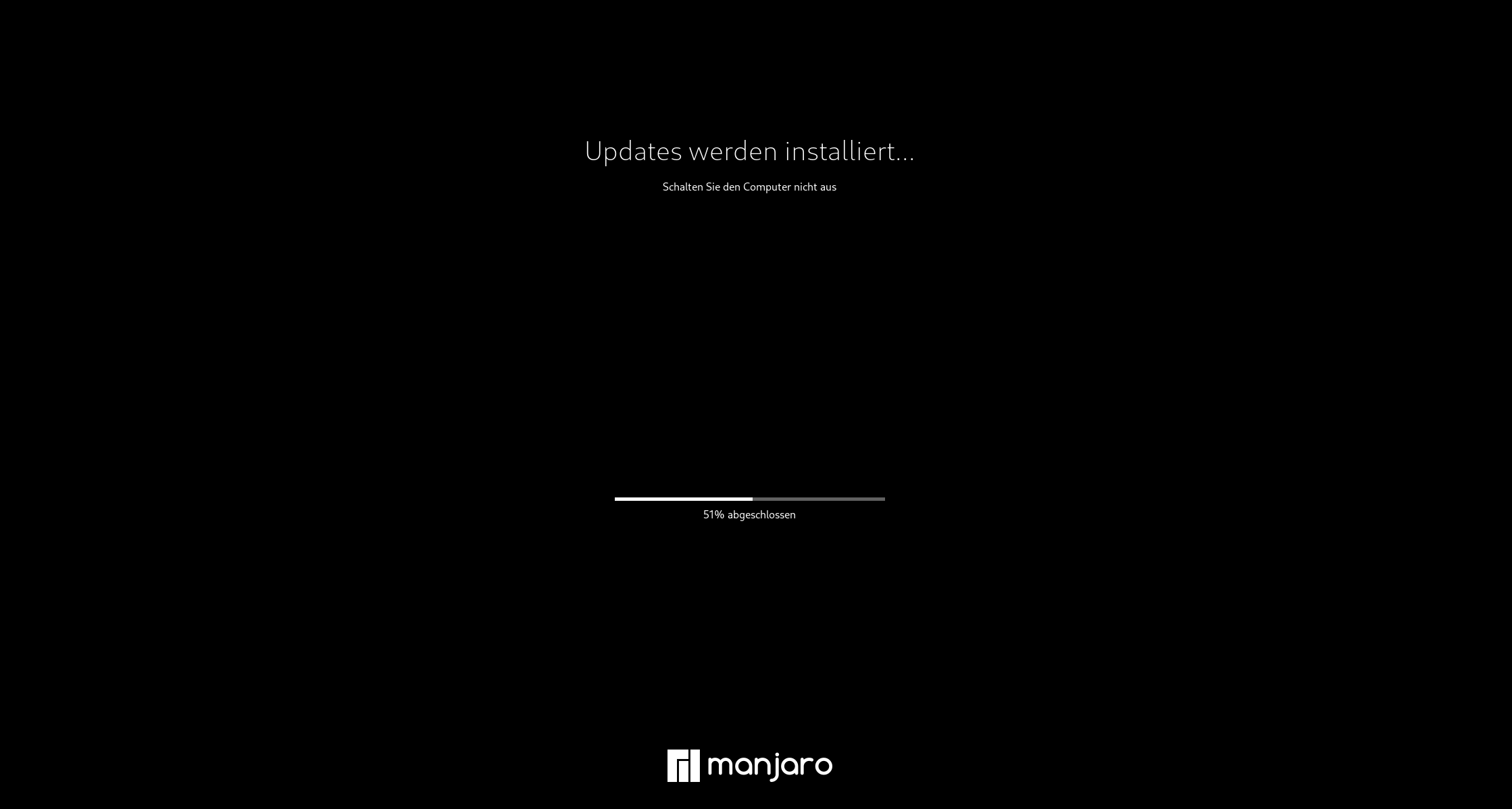 Contribution
I'm open and welcome contributions to make this script better and/or available to more distributions. Currently, the script is quite hacky as it is not using the offline-update service, but a custom solution. If you know a better approach, feel free to open a pull request!
Should you encounter any issue, please open an issue. Use at your own risk!