Hi,
I have an ASUS TUF Gaming F15 FX506HM laptop with the following configuration:
11th Gen Intel i5-11400H
NVIDIA GeForce RTX 3060 Mobile / Max-Q
Intel TigerLake-H GT1 [UHD Graphics]
And I'm running 5.15.28-1-MANJARO Kernel (64-bit) with KDE Plasma 5.24.3. I'm also running Wayland instead of Xorg as Xorg is too slow.
I have two monitors, the built in monitor in the laptop and a SAMSUNG LU28R55 (27" 4K monitor).
I disabled the built in monitor and am using the external monitor only as I frequently switch between my work laptop and this laptop using a USB switch.
However, I noticed that from the past few days, I'm getting random screen flickering. A surefire way is to play a 1080p video in YouTube but happens randomly all the time.
Attaching a video of it for reference:
While the flickers are short lived, they are messing up the window positions and sizes and I have to resize the windows again, even windows from other workspaces are affected.
I saw a similar post and set my compositor's vsync to full screen repaints. This reduced the frequency, but they still do happen.
I connected my monitor through HDMI if that helps.
Kernels page in settings: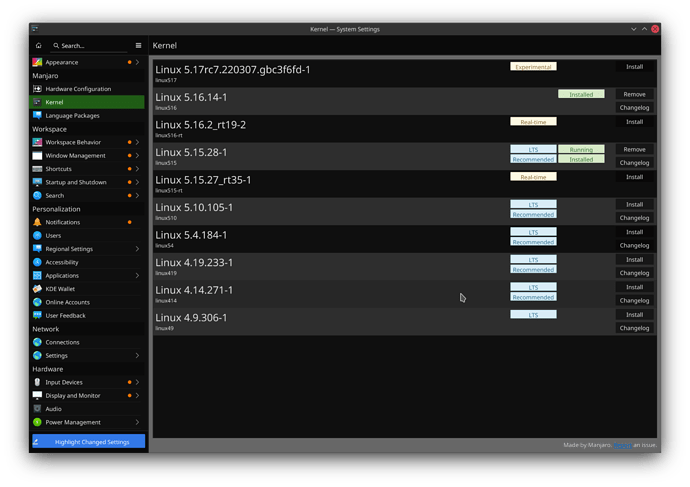 Hardware Configuration page: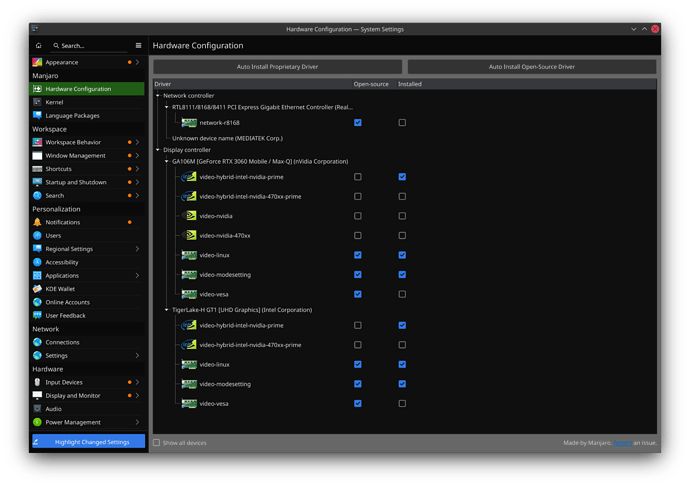 I tried to reinstall the drivers by clicking on auto install proprietary driver button, but still nothing happened.
How to resolve this issue?