Hi, I have been using Manjaro as my daily driver for over a year now, and I have been experiencing a recurrent issue whenever I use the Discord's voice channels either by an installed package or a Chromium based browser. The issue is that I can have the system running all day with Discord open or the page loaded in Vivaldi and this does not happen. But once I join a voice channel it kicks me out of my X session and I have to log in again.
It seems that it may be something related to Chromium as this does not happen with Firefox (I can be logged in all day and it never happened in that specific browser) and this happens in both my laptop and desktop . I have tried reinstalling the package, removing Vivaldi but nothing seems to resolve it and it also happens to a friend. This has happend in Enlightenment on my laptop and Xfce in my desktop.
I started having this issue about six months ago, and I was getting used to keep opening Discord in Firefox but now I am having an USB headset issue with this specific browser and I wanted to use any Discord package (AUR, Flatpak and Sanp) or fork that may solve the issue for me.
My Laptop setup is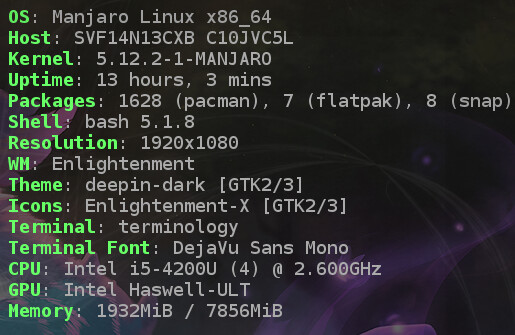 Please let me know any information you may need from my end.
Thank you!