Dear all,
I'm struggling a bit with a new laptop (Tuxedo InfinityBook Pro 16 Gen 8).
This laptop has an integrated Iris Xe i915 GPU and a discrete Nvidia 4060 one (see output from inxi -G):
Graphics:
  Device-1: Intel Raptor Lake-P [Iris Xe Graphics] driver: i915 v: kernel
  Device-2: NVIDIA AD107M [GeForce RTX 4060 Max-Q / Mobile] driver: N/A
  Device-3: SunplusIT FHD Webcam driver: uvcvideo type: USB
  Display: x11 server: X.Org v: 21.1.8 driver: X: loaded: modesetting
    dri: iris gpu: i915 resolution: 1: 3840x2160~60Hz 2: 2176x1360~240Hz
  API: OpenGL Message: Unable to show GL data. Required tool glxinfo
    missing.

Right now I'm using the drivers I got after the base installation of Manjaro (i3 community edition). I found I was using libva-intel-driver.
The main issue I got was that I was experiencing random hard freezes of my machine; with "hard" I mean totally blocked, not even possible to switch to a tty (I could only use sysrq codes to sync and then reboot the machine via the hardware reset button). Nothing of relevance in journal too, apart from this error just before the freeze:
Sep 18 14:33:51 sadhana vivaldi-stable.desktop[24877]: libva error: /usr/lib/dri/i965_drv_video.so init failed

In any case I was wondering: right now I'm not using at all the discrete graphics card and I'd like to set things up properly so I can be able to liberally switch betweeen the integrated and discrete graphics card. I'm not sure how to do this…
This is what I can see right now in the Manjaro hardware configuration: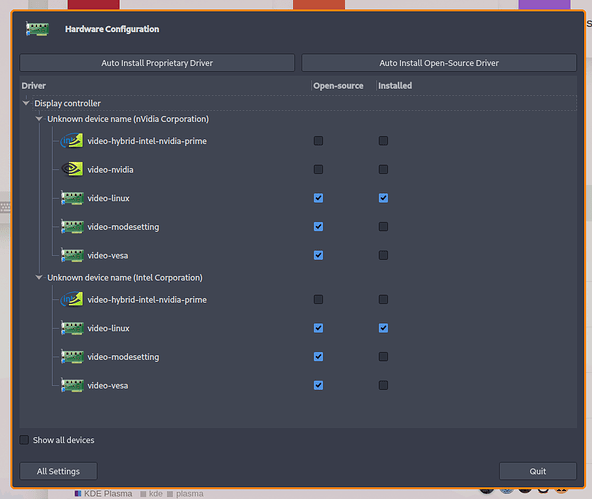 What's the best path moving forward? should I just choose "Auto install proprietary driver"? or choose some of the options manually?
Also, in my attempt to improve things with the integrated GPU (and to see if this at leasts prevents the hard freezes) I've just removed libva-intel-driver and I installed instead intel-media-driver (that from what I read should be the more recent driver for Intel cards).
Any help/advice would be greatly appreciated!