I updated the pipewire packages to the new versions
[2023-08-11T20:57:50+0200] [ALPM] upgraded pipewire (1:0.3.75-2 -> 1:0.3.77-1)
[2023-08-11T20:57:50+0200] [ALPM] upgraded pipewire-audio (1:0.3.75-2 -> 1:0.3.77-1)
[2023-08-11T20:57:50+0200] [ALPM] upgraded pipewire-jack (1:0.3.75-2 -> 1:0.3.77-1)
[2023-08-11T20:58:10+0200] [ALPM] upgraded gst-plugin-pipewire (1:0.3.75-2 -> 1:0.3.77-1)
[2023-08-11T21:00:04+0200] [ALPM] upgraded pipewire-alsa (1:0.3.75-2 -> 1:0.3.77-1)
[2023-08-11T21:00:04+0200] [ALPM] upgraded pipewire-pulse (1:0.3.75-2 -> 1:0.3.77-1)
[2023-08-11T21:00:04+0200] [ALPM] upgraded pipewire-x11-bell (1:0.3.75-2 -> 1:0.3.77-1)
[2023-08-11T21:00:04+0200] [ALPM] upgraded pipewire-zeroconf (1:0.3.75-2 -> 1:0.3.77-1)

And now obs-studio (29.1.3-1) uses the OBS (Desktop Audio) mono virtual device to record my mic instead of my actual desktop audio. Nothing I change in OBS or gpwgraph fixes this. Both Desktop Audio and Mic/Aux record from the same input device, even though Desktop Audio should follow the "Default Device" non-comms setting which is set to "default_sink" (a virtual devices I created via pipewire config and that virtual device worked just fine for more than 2 years till now).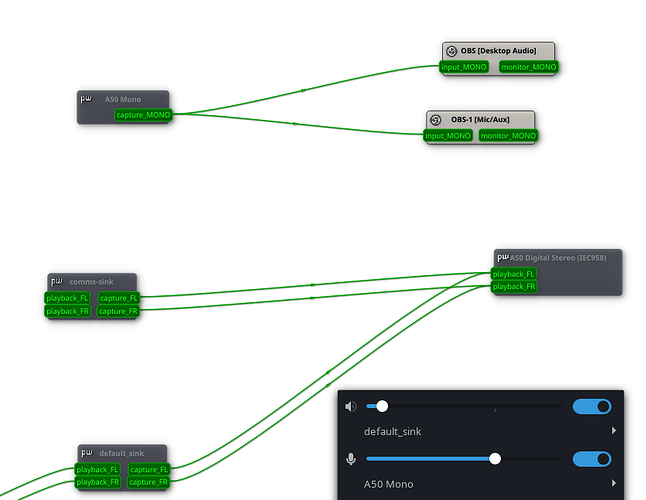 Expected: The "OBS (Desktop Audio)" virtual device should automatically connect to "default_sink". That's how it's been before this update.
In OBS the Global Audio Devices are configured as shown here:

If I change them to anything other than "Default" or "A50 Mono" (that's the mic) the OBS created virtual devices ("OBS Desktop Audio" and "OBS-1 (Mic/Aux)" respectively) just disappear.
I actually need OBS only for streaming my desktop audio and video.

Edit: cutting the connections in gpwgraph and connecting both "default_sink" channels with the single channel from "OBS (Desktop Audio)" is possible, but "OBS (Desktop Audio)" is only a mono virtual device. I've always had a stereo virtual device in the past for recording desktop audio, so that method shouldn't be considered a workaround since its result is inferior.