I tried to see if I find this elsewhere but so far it looks like my problem is different. I probably managed to mess up configuration somewhere but I cannot find it.
Preview in Dolphin seems to work for all file types except PDF. Here is a screenshot demonstrating it: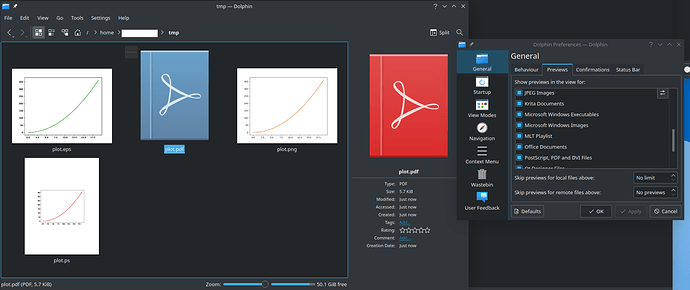 I've checked the previews setting in Dolphin which looks correct to me, I also clicked on the "Defaults" button in the settings to see if I could reset something. I have no limit for preview file size. I've checked that kdegraphics-thumbnailers is installed. I'm a bit out of ideas, so throw your thoughts my way please

And of course, as always, my apologies if this has already been solved elsewhere. I tried to do some searching here on the forums first (and general KDE searches), but nothing solved it for me that I found.