Hello, community! I have a problem with running latest GOG version of No Man's Sky installed via offline installer on Linux system through Wine. Game crashes immediately at startup with the following error:
The game has encountered an error and will now shutdown. Please refer to https://hellogames.zendesk.com/ for help if the issue persists and include this token as reference: 73704_0x7FB3253B968E_GX (Token has been copied to clipboard)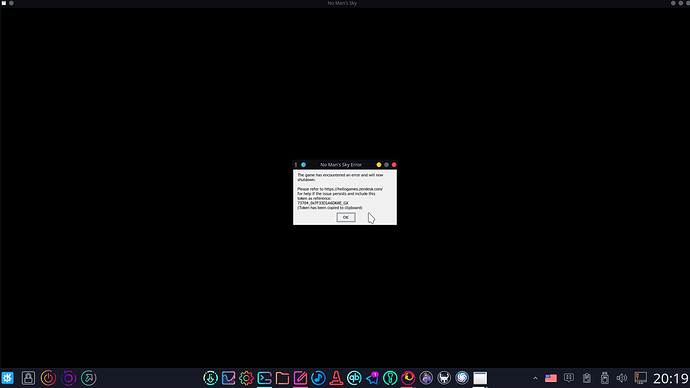 Here is my configuration.
CPU: AMD Ryzen 5 2600
GPU: Nvidia GeForce RTX 2070
RAM: 16 GB (8x2), no swapfile
OS: ArchLinux x64 (Manjaro Linux)
Desktop Environment: KDE
Linux kernel: 5.10.53-1 (linux510 LTS)
Driver: Nvidia proprietary 470.57.02
Wine: wine-tkg-staging-fsync-git 6.11.r4.g0dd44a25-326 + wine-mono 6.2.0-1 + wine-gecko 2.47.2-1 + winetricks 20210206-1 + all required Wine dependencies
Error token changes slightly in the middle every run:
73704_0x7F228B5BD987_GX,
73704_0x7F567ADFF9BC_GX,
73704_0x7F712C34168E_GX,
etc.
I did not find any solution of this error in internet so I tried almost everything to fix this issue:
Manually updating wineprefix's DXVK version to the latest 1.9.1
Manually updating wineprefix's DXVK-NVAPI version to the latest 0.4 (game has optional DLLS support)
Installing the latest 6.13-1 version of Wine-staging instead of Wine-tkg-staging 6.11 and creating new wineprefix for NMS
Renaming/deleting/turning off in game's launch options "vulkan-1.dll" file in ./Binaries folder
Enabling and disabling ESYNC or FSYNC in game's launch options
Changing work path to game's folder or to no work path
Reinstalling the game via GOG offline installer two times
I even tried to install previous GOG version of No Man's Sky (3.52 Prisms 73704), error tokens that you can see above in my post actually received from this version, but the latest 5.53 Prisms 73811 version have the same error, just with "73811_" at the token's beginning
I am using the following command to launch No Man's Sky:
WINEARCH=win64 WINEPREFIX=/home/hotcapy/.local/share/wineprefixes/NMS WINEDLLOVERRIDES=nvapi64,dxgi=n DXVK_CONFIG_FILE=./Binaries/dxvk.conf WINEESYNC=1 DXVK_HUD=devinfo,fps wine ./Binaries/NMS.exe
(I'm getting the same error when running without all parts of this command except WINEPREFIX and wine itself)
And I'm really sad that I can not run the game because I read a lot of posts where people say that No Man's Sky works perfect on Linux systems, so it's me who doing something wrong.
I have some other games installed on my PC that runs perfect through the same version of Wine, for example, GOG version of Divinity: Original Sin 2 (and the first part of Original Sin too).
Dear Manjaro users, thank you for reading my long enough post. I will be really grateful if someone can help me to solve my problem. Thank you in advance!