Hello,
I have a pppoe connection directly to my PC
Trying to use custom DNS servers through the "only addresses" option only works the first time I create the connection and connect to it.
But as soon as I disconnect then reconnect, or if I restart the PC etc, it does not longer respect the custom DNS servers, and it always will use the ISP provided ones until I delete it.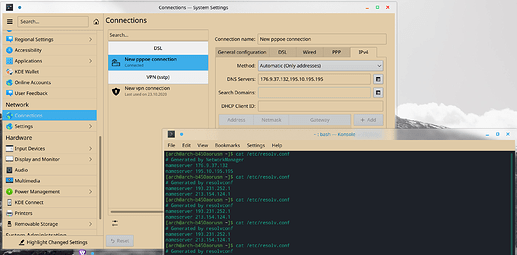 This is the config file it creates. BTW IPv6 also is not working, I don't need it at all since I am fine with ipv4 still, but curious as to why.


cat 'New pppoe connection-27cd99f5-9abb-451c-b1************.nmconnection'
[connection]
id=New pppoe connection
uuid=27cd99f5-9abb-451c-b1*************
type=pppoe
permissions=user:arch:;
zone=public

[ethernet]
auto-negotiate=true
mac-address=B4:2E:*********
mac-address-blacklist=

[ppp]

[pppoe]
password=m**********
username=B**********

[ipv4]
dhcp-send-hostname=false
dns=176.9.37.132;195.10.195.195;
dns-search=
ignore-auto-dns=true
method=auto

[ipv6]
addr-gen-mode=stable-privacy
dns-search=
method=auto