just need a bit of help, I don't really understand the concept of locales and how to do this
This article can be a start Locale - Manjaro
Depending on the desktop environment there are graphical tools to manage languages too, for example in KDE System Settings if your start searching for the word lang it will bring up some results where you can set various language settings.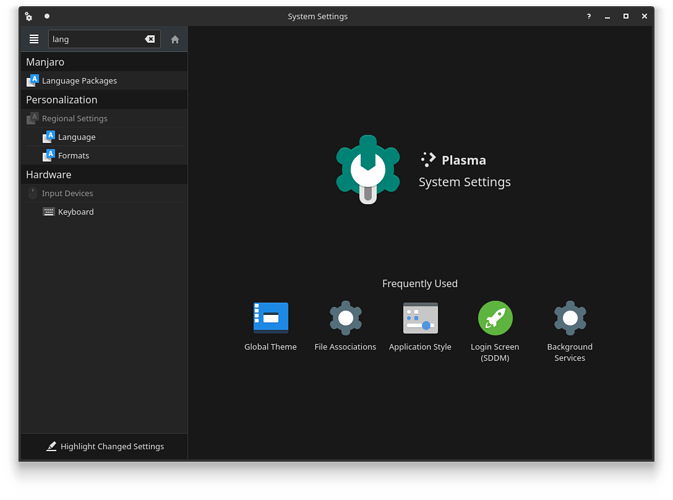 yes, the problem is that when I click to add a language, Esperanto is not in the list, do you know how to add it to a list? is there a package I need to install? the locale article does not really explain that.(not necessarily looking for a GUI, I know the terminal pretty well.)
KDE's system settings, no additional package necessary (not available anyway, nothing comes up when I search
kde esperanto
in both AUR and official repo).
Did you read the article I linked?
Hey, right you are that Esperanto is in the list under "Add Locale". It is not in the list under Regional Settings<Language, though.
I'm also trying to add an Esperanto keyboard. I've only been using Manjaro for a week or two, but I think I had one and now it's gone…
When one clicks Esperanto in "Add Locale", because there is nothing under Territory, the Add button never becomes clickable.
This is a huge problem for an Esperanto speaker who wants the correct letters when I type. How can I do something about this?
I figured out how to at least change the keyboard:
Settings>Hardware>Input Devices>Keyboard
Then Add, select the default Esperanto keyboard, and to switch between the English and Esperanto keyboards, Ctrl+Alt+K
I believe the problem is somewhat solved… Once you go to the local language settings, you'll notice Territory is empty. You can still select it tho!! The empty space is a placeholder

Screenshot|684x500
Although, getting the settings to actually change to Esperanto once you've added it is still a problem
I just started a fresh installation of Manjaro on a new-to-me Aspire 5738. You're right, most of the system is still in English. Only a few options changed to Esperanto in the installation menu. We'll see how the rest looks once it's finished installing.
It was pointed out to me that for non-English speaking Esperanto speakers, they don't use Esperanto on devices because so much of the system is often still in English.