Hello, fairly new Linux user here who is generally having a great experience giving Manjaro KDE Plasma 21.07 a thorough "Let's dump Win10 for Linux" effort. Quite honestly gaming was keeping me invested in windows, but Steam/Proton (customized wine?) is shining brightly and proving just how much I can bring with me to Linux!
One issue I seem to be having though is that after I install a game or app (via steam or pamac) is that the icons for the new shortcut appear to be missing on both the desktop and menu… but I can see the icon of the desktop shortcut if I open dolphin to browse the desktop.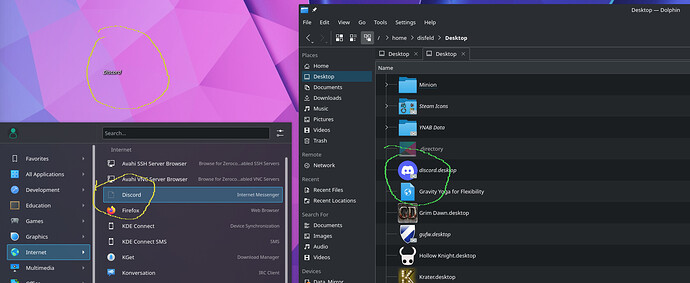 For the steam game shortcuts, I was able to update them manually to force them to use one of the cached/downloaded icon images… but some shortcut (like discord) are actually links so I could not edit them.
The forum suggested https://forum.manjaro.org/t/display-desktop-icon-missing/51060 may be related to my issue… and while I think that OP was stating a different problem, I'd like some clarification if the suggestion to "not apply a global theme" is related to my issue.
Do the themes (or is it more specifically the icon packs?) need to know about every possible icon to ensure every menu and desktop shortcut has a visible icon?
I had switched to the "Breeze Dark" global theme… and while typing this I clicked the button to "restore defaults" button which returned me back to the "Breath2" global theme. This made no change to my discord shortcut, even after I uninstalled and reinstalled it.
I was able to force the icon to load by editing /opt/discord/discord.desktop so that it uses the /opt/discord/discord.png icon… it just doesn't feel right to have to do this all the time.
What changes can I make so that my shortcut icons appear every time one is created?