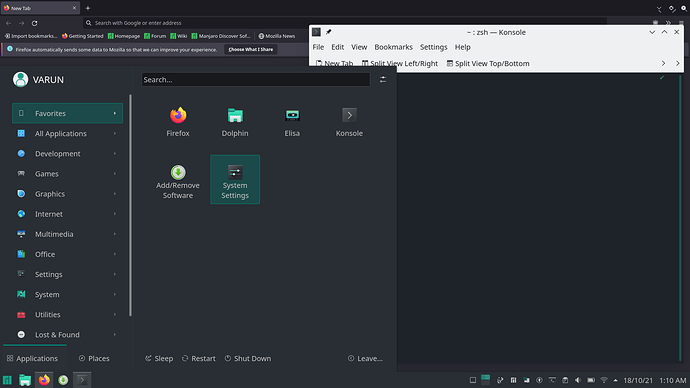 As you can see in the photo i have only problem with system UI, Firefox has proper size but all kde system UI are oversized.
i have tried force dpi but if i do that system UI become fine but other software become small size.
my global scale is at 100%.
inxi -Fxxz
System:
Kernel: 5.13.19-2-MANJARO x86_64 bits: 64 compiler: gcc v: 11.1.0 Desktop: KDE Plasma 5.22.5 tk: Qt 5.15.2wm: kwin_x11 dm: SDDM Distro: Manjaro Linux base: Arch Linux
Machine:
Type: Laptop System: LENOVO product: 81SY v: Lenovo Legion Y540-15IRH-PG0 serial: Chassis: type: 10v: Lenovo Legion Y540-15IRH-PG0 serial: Mobo: LENOVO model: LNVNB161216 v: SDK0Q55722 WIN serial: UEFI: LENOVO v: BHCN42WW date: 05/21/2021
Graphics:
Device-1: NVIDIA TU117M [GeForce GTX 1650 Mobile / Max-Q] vendor: Lenovo driver: nvidia v: 470.63.01bus-ID: 01:00.0 chip-ID: 10de:1f91Device-2: Acer SunplusIT Integrated Camera type: USB driver: uvcvideo bus-ID: 1-6:4 chip-ID: 5986:2113Display: x11 server: X.Org 1.20.13 compositor: kwin_x11 driver: loaded: nvidia resolution: 1920x1080~60Hzs-dpi: 143OpenGL: renderer: NVIDIA GeForce GTX 1650/PCIe/SSE2 v: 4.6.0 NVIDIA 470.63.01 direct render: Yes