Hallo,
my Asus laptop with 4 Gb ram is getting slow, is there a solution in Manjaro KDE.
Thanks,
have you tried rebooting ?
what's slow ? your not actually telling us nothing.
firefox is always slow starting no matter the specs.
kde needs some optimizing to be decent.
Hi Kerry_s
Chrome asks to reinstall, no result after reinstall via AUR.
chrome is hard to close after pressing x, usually has to use alt+F4.I'm wondering if I shouldn't choose between XFCE or Gnome
so it's chrome not kde. most likely a issue with the browser.
i also been trying to trim for speed, i'm on a rpi4 4gb.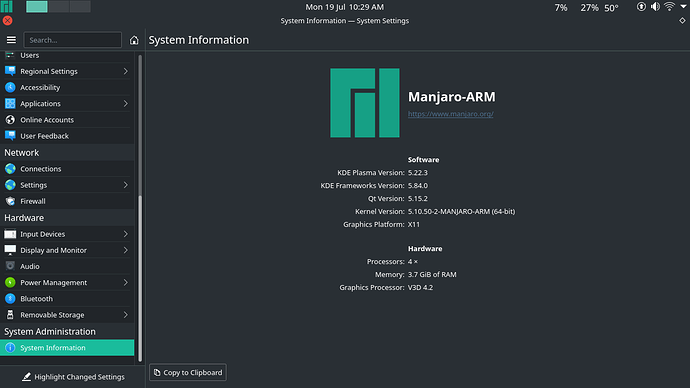 Find the bottleneck in your system first. Are you out of RAM? Are you still using slow storage? Or even your CPU is too weak? Everything is possible but without you telling any of these, no one can help you.
I switched to the XFCE version, but now I can't find the AUR repository. How do I get it?
thanks guys,
Many problems with the installation of XFCE, apparently problems with Balena Etcher. Finally set up KDE again with a stick that came with my new laptop. Installing brother printer and Epson scanner was very easy. Found everything in AUR, congratulations and thanks to these people for their help beautiful work.
grt,