Hello,
I am struggling ( as a new linux-Manjaro user) with a problem since last week, I did a lot of reading and searching for similar problems on this forum and i watched videos and I have no clue on how to get Manjaro up and running.
I have Manjaro ( KDE plasma) on a drive and I have Window11 on a second drive and I use Grub bootloader for dual boot ( see image 1)

This setup was working perfectly since may 2023 and since last week, I can no longer boot Manjaro . I can boot Window no problem. In Manjaro, I use mostly photo editing software so I do not make any changes to Manjaro configuration. The last time that Manjaro was working, I installed an Apimage of DigiKam. When i turned off the computer, Manjaro took a lot of time to shut down.
Now, when I boot Manjaro, I get an error message : «/boot/vmlinuz-6.1-x86_64» is not available and the kernel needs to be loaded (see image 2)

I found some information on grub commands to see if the configuration file was pointing at the right file structure ( hd0,gpt3) and it seems to be OK ( some videos mentionned possible file corruption in Grub.) ( see image 3)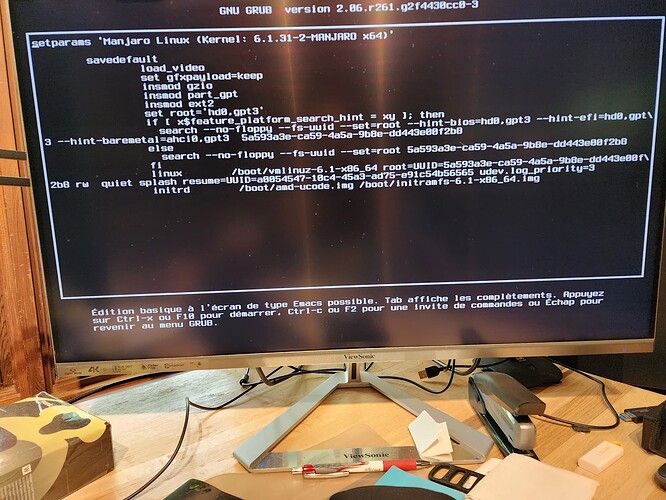 Suggestions:
1 Should I try to reboot with an USB drive ? I am concerned that this will delete my partitions. I have a common partition with Windows (400 Gigs with data )
2 Any other suggestions or hints on what I can do to get Manjaro up and running ? ( There is a lot of documentation and ressources on how to fix a problem once Manjaro in up and running)
King regards and thanks for taking the time to read my message and make some suggestions or point me in the right.
Michel