I have a Logitech K260 wireless keyboard which actually came with a M210 mouse as a wireless combo both connecting to a (non-unifying) Nano receiver.
The keyboard has this cool row of extra keys (in grey) at the top.
I'm trying to figure out if I can reprogram these keys to do exactly what I want, which some of them already do.
The Solaar application detects both the mouse and keyboard correctly, but I don't understand how the rules in here actually address what the extra keys do.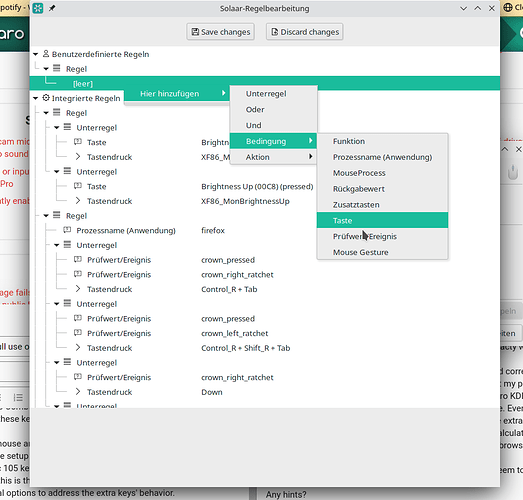 Sorry about the mostly German interface, I don't know how to change it to English.
Regel means rule (there are also "Unterregeln" = sub-rules), Bedingung means condition, Taste means key. Zusatztasten means extra keys, but these only give me Super, Shift, Alt and Ctrl.
I had the keyboard configured as "Generic 105 key" in Manjaro KDE settings until just now, and changed it to "Logitech cordless desktop", hoping this is the correct one. Everything continues to work as normal after this change, but I can't find additional options to address the extra keys' behavior:
Currently, 2 of them do nothing: the mail envelope and the calculator.
The home button goes to the browser home page when the browser is open, and does nothing when it's not.
I don't know how keyboard drivers work, and there doesn't seem to be a specific one for this model in the repos…
Any hints?
EDIT:
I tried adding the top two rules that you see here:

"Ausführen" means execute, so I was hoping for this to run any command I specifiy in the box below, there seems to be the option to add arguments.
So the mail envelope-key should launch Firefox, the calculator key should launch Kcalc.
I'm guessing that "Calculator" and "Mail" are the actual names of these two keys. However, their behavior hasn't changed, they still do nothing.