So, I open the settings application and toggle the Location Services selection to on. I then try to use the location in gnome-maps and I am confronted with a message that says that location services are turned off and I need to turn it on, despite it already being on, as seen here: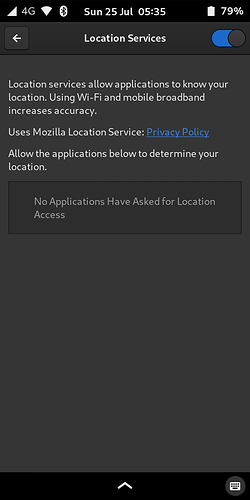 Note, the output of sudo mmcli -m any --location-status is:
  --------------------------------
  Location |         capabilities: 3gpp-lac-ci, gps-raw, gps-nmea, gps-unmanaged, agps-msa, 
           |                       agps-msb
           |              signals: yes
  --------------------------------
  GPS      |         refresh rate: 0 seconds
           | supported assistance: xtra
           |   assistance servers: http://xtrapath1.izatcloud.net/xtra3gr.bin
           |                       http://xtrapath2.izatcloud.net/xtra3gr.bin
           |                       http://xtrapath3.izatcloud.net/xtra3gr.bin

I am not sure what is going on here. It seems that GPS is working, but I have no location on any apps. I have tried using location services with Postmarket OS on this very phone and it works without a hitch.