I do have an Laptop (ASUS N76vz) and an external Screen (BENQ 24).
I've worked a bit at my nvidia config. After rebooting the PC, the Laptop-Screen-Resolutions are way to low. The highest resolution I could choose is 950x540: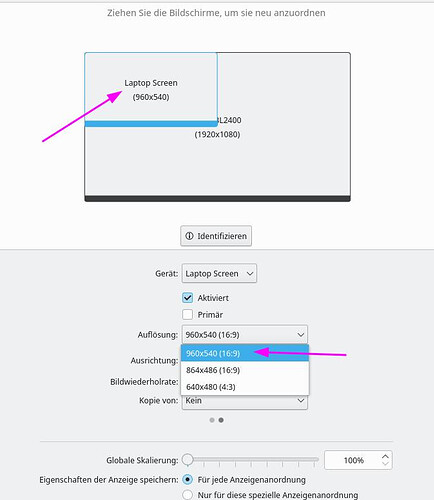 AND, the screens are always arranged above each other after reboot… even if I put the Laptop-Screen at the right side of the BENQ 24, and save that changes. On next boot, position of Laptop-Screen is again as shown in the image.
How can I fix that?
BTW: If I try to run nvidia-settings, I always got this message:

Even if I follow the instructions, it appears every time again
System
Operating System: Manjaro Linux
KDE Plasma Version: 5.24.6
KDE Frameworks Version: 5.96.0
Qt Version: 5.15.5
Kernel Version: 5.19.1-3-MANJARO (64-bit)
Graphics Platform: X11
Processors: 8 × Intel® Core™ i7-3610QM CPU @ 2.30GHz
Memory: 15.1 GiB of RAM
Graphics Processor: Mesa Intel® HD Graphics 4000