My system's load average generally bumbles along between virtually zero overnight to an average of two or three when I'm actively doing a lot of intensive work on it.
After installing 5.15 and rebooting into it, my load average quickly rose to 30. After trying to troubleshoot it and having failed to find any obvious cause, I rebooted and again after a few hours it again rose, though not as badly, to about 9.
This graph shows the effects of this kernel on the system's load average.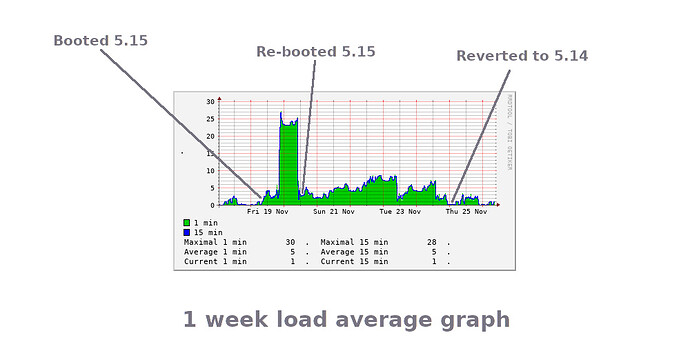 I checked the obvious culprits - CPU use has stayed within its normal range, as has RAM and swap use.
For comparison, this graph shows the load average over the previous month - as can be seen it's normally much lower.

I don't know whether this is a genuine increase in load average or a bug in the way the kernel is reporting it. However I didn't notice any difference in my computer's performance with 5.15 running.
I've removed this kernel for the time being, but I'm happy to reinstall and perform any tests that may be helpful.
[Edit]: 5.15.6-2 solves this, so it appears just to have been a minor glitch with the previous version of 5.15.