The UPdate 2023-05-07 has been done without any issue. After that, there was a new announcment:
$ pamac checkupdates -a
1 Aktualisierungen verfügbar:
java11-openjfx         11.0.18.u1-1 -> 11.0.19.u1-2  AUR

This fails after 10 Minutes:
> Task :code-quality:compileGroovy
Note: /var/tmp/pamac-build-hessler/gradle7/src/gradle-7.6/subprojects/code-quality/src/main/groovy/org/gradle/api/plugins/quality/internal/AbstractCodeQualityPlugin.java uses or overrides a deprecated API.
Note: Recompile with -Xlint:deprecation for details.

> Task :docs:userguideSinglePagePdf FAILED

FAILURE: Build failed with an exception.

* What went wrong:
Execution failed for task ':docs:userguideSinglePagePdf'.
> Remote Asciidoctor process failed to complete successfully

* Try:
> Run with --stacktrace option to get the stack trace.
> Run with --info or --debug option to get more log output.

* Get more help at https://help.gradle.org

Deprecated Gradle features were used in this build, making it incompatible with Gradle 8.0.

You can use '--warning-mode all' to show the individual deprecation warnings and determine if they come from your own scripts or plugins.

See https://docs.gradle.org/7.6/userguide/command_line_interface.html#sec:command_line_warnings

BUILD FAILED in 10m 28s
2802 actionable tasks: 2746 executed, 56 from cache

A build scan was not published as you have not authenticated with server 'ge.gradle.org'.
For more information, please see https://gradle.com/help/gradle-authenticating-with-gradle-enterprise.
==> FEHLER: Ein Fehler geschah in build().
    Breche ab...

Actual version
$ java --version
Picked up _JAVA_OPTIONS: -Dawt.useSystemAAFontSettings=gasp
openjdk 20.0.1 2023-04-18
OpenJDK Runtime Environment (build 20.0.1+9)
OpenJDK 64-Bit Server VM (build 20.0.1+9, mixed mode, sharing)

*Java Installations here: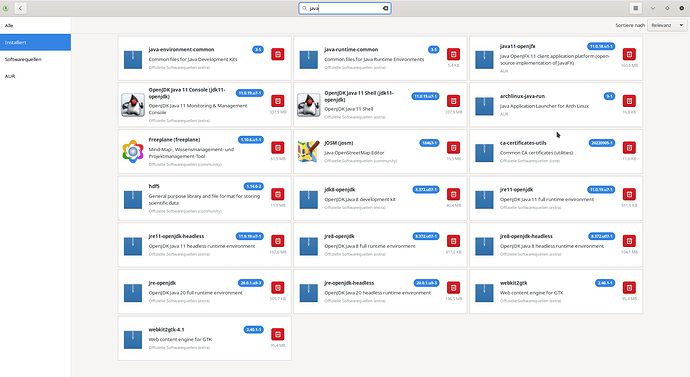 How can I check, if any appliction needs jdk11?