XFCE 22.0.0
Installed JamesDSP from AUR
[xf@xf22 ~]$ LC_ALL=C pactl info | grep "Server Name:"
Server Name: pulseaudio
[xf@xf22 ~]$
I've speakers onto my external HDMI monitor as well as on my laptop.
Under volume control> internal audio I have to hear sound from my external monitor
Digital stereo audio output(hdmi) + analogue stereo input.
I tried to have JamesDSP effect: none hearable, aka not active see picture, presumably device issue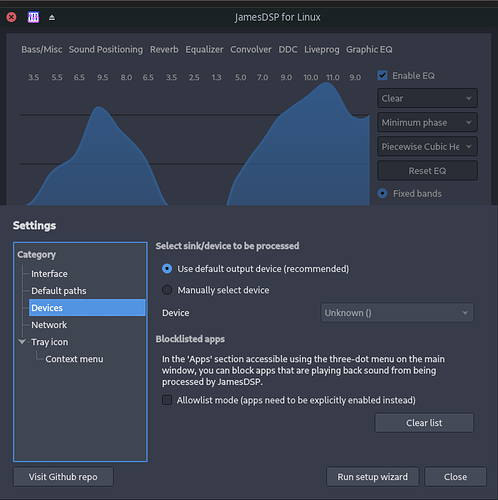 If I try:
pulseaudio-equalizer-gtk
then it works and under volume control> internal audio I have now LADSPA plugin multiband…
and EQ effects are applied.
I wish to use JamesDSP because it has better frequency range calibrations.
How to make I sound work?
tkx
P.S. If I select "manually select device", I have no other options than "Unknow()".
[xf@xf22 ~]$ jamesdsp
[13:48:35.587] [INF] Application version: 2.4-0-g49994d2 (Pipewire flavor)
[13:48:35.587] [INF] Qt library version: 5.15.5
[13:48:35.587] [DBG] Launched by system session manager: no
[13:48:35.587] [DBG] Environment id: 60c4acddaa34442ba0761f3627d6cea5
[13:48:35.590] [WRN] SingleInstanceMonitor::isServiceReady: Service registration failed. Name already aquired by other instance
[13:48:35.590] [INF] SingleInstanceMonitor::handover: Attempting to switch to this instance...
[13:48:35.590] [INF] SingleInstanceMonitor::handover: Success! Waiting for event loop to exit...
[xf@xf22 ~]$

I DO HAVE A WARNING:
[13:48:35.590] [WRN] SingleInstanceMonitor::isServiceReady: Service registration failed. Name already aquired by other instance

---
Moderator edit: In the future, please use proper formatting: [HowTo] Post command output and file content as formatted text