Some issues after restoring system with Borg Backup
So far, I've been using BorgBackup to backup my system from the command line, much like how you would do it using rsync. I use a bash script with the following command (with $REP and $SNP denoting the repository and snapshot filename, respectively) :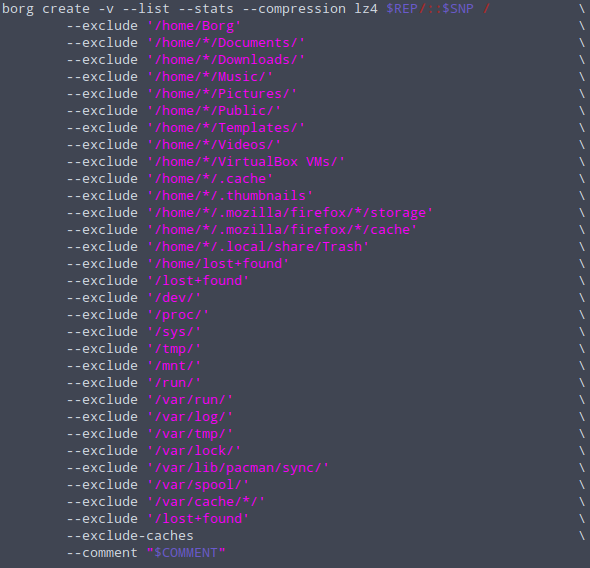 Note this backups the system only (including some hidden files in /home). Documents etc are backed up using another script
After the last stable update, my system was experiencing issues so I decided to restore it from the latest Borg backup (from a LiveUSB after having reformatted the system drive). On the next reboot, the system hanged with a message «Failed to start Light display manager». I could still login in TTY and use startx to get me in the graphical interface (admin password required) but several things were not working properly. For example, the langage was wrong and I couldn't log into my VPN. So basically, I ended up reinstalling Manjaro from scratch, which is something I wanted to avoid with a proper backup routine.
It is the first time in 2 years that I have to effectively restore my system from the backup but back when I made my backup script, I did test it and I was able to restore my system without any issue at that time.
I don't know what went wrong in my backup/restore process and why LightDM would fail to start after the restore process (it was working fine when I did the backup obviously and I also tested the script in the past). I don't really need to troubleshoot this anymore since I ended up reinstalling my system anyway but I'd like to correct mistakes if I'm doing anything wrong with my backup for the future.
Namely, I am excluding several files/folders from the backup. I thought these would be safe to exclude but do you know if such exclusions may have caused LightDM to fail ? For example, I did exclude /run as it is generally recommended to do so but lightdm.conf file states that the run directory for lightdm is /run/lightdm. So should that directory still be part of the backup for lightDM to start after restore ? What could be the reason for lightDM failing to start after a restore ? Should I remove some exclusions in the backup command?
Thanks for any insight !