I have been using Manjaro-KDE successfully for approximately a year on a dual boot Acer Swift 3 laptop. I am trying to load the same OS, from the same DVD used previously (19.02-200311), to a new Acer Spin 5. It has Win10 installed (it works), with a 512 GB SSD and 16 GB RAM. I turned off secure boot, then used the Window disk management utility to free up about 440GB on the SSD.
My goal is a dual boot, and I'm following the instructions here:
https://linuxconfig.org/manjaro-linux-windows-10-dual-boot - supplemented by the instructions here:
https://wiki.manjaro.org/index.php/UEFI_-_Install_Guide
I expected I could just use this validated ISO, run the updates, then I'd be set.
As the ISO is loading, I see two red FAILED messages: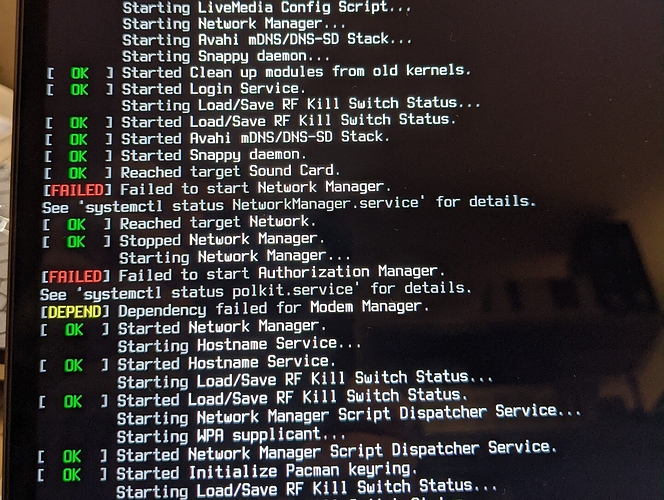 The ISO loads to display the "Welcome to Manjaro" window, but the touchpad mouse is dead. In desperation, I plug in my Bluetooth Logitech mouse and suddenly I have a live mouse cursor. (The touchpad mouse works fine in Win10.)
Using my now-functional mouse I launch the installer from the "Welcome…" window. Fairly quickly, I see this:
I have no idea what to do at this point!