The current state of my partition which contains Manjaro and Windows 10 (on dual boot) is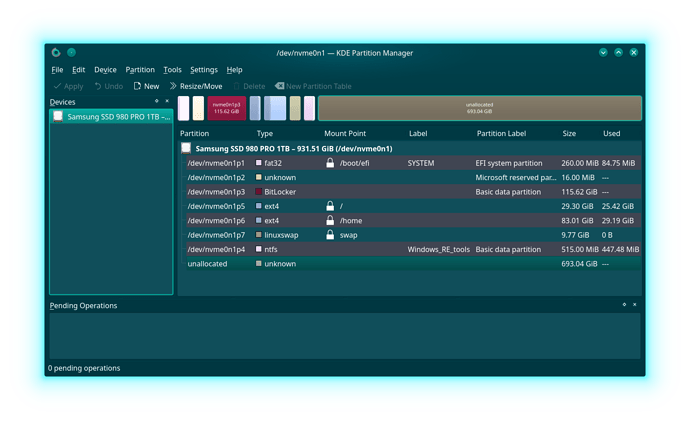 I want to enlarge the following partitions and leave the rest unchanged:
*p3 (Windows)
*p5
*p6
*p7 (more flexible, staying the same is also an option)
So I imagine the final configuration will be:
at the rightmost is *p4 (NTFS) with the same size.
Adjacent to the left is *p7 (linuxswap) with probably the same size (I have 16 Gb RAM, would you suggest the swap to also be this amount?).
Moving to the left, you have *p6 (/home) that is now enlarged to the space that is left.
Moving to the left, you have *p5 (/) that is also enlarged.
To the left you have the enlarged *p3 Windows partition.
The rest is the same as initial.
With this configuration, therefore the left point of *p3 stays unchanged while its right point move to the right. Thus, all partitions to the right of *p3 will shift to the right.
My plan is the following:
Create a Manjaro live USB and boot into it.
Open Gparted and shift the boundaries of *p5, *p6, *p7, and *p4 to the right to exhaust the entire empty space. Doing this will leave an empty space between *p3 and *p5.
Reboot into Windows and use its partition manager and move the right point of *p3 to exhaust the empty space created at the end of the previous step.
Done.
My concerns:
Many articles I managed to find suggest that I should have a backup of my system first. The storage I am resizing now is a newly installed SSD that was cloned from an older one just a few days ago. So, I guess my old SSD already constitutes a good backup.
UUID of partitions can change during resizing and can make Manjaro unbootable. Solution is to edit the /etc/fstab to use the new UUID which can be found, e.g. through parted -l. Ref: How can I extend my Manjaro partition? (from Windows to Manjaro) - Newbie Corner - Manjaro Linux Forum. Is it all there is to dealing with changed UUID?
What about Windows, are there situations where it becomes unbootable after partition resize?