I've tried looking online but couldn't find any results for Manjaro. Am I even able to do this?
Welcome to the forum!

Well, that's why you didn't find anything.

Tip: It's related to your file manager from your DE (Desktop Environment), not the GNU / Linux distribution.

Are you talking about embedding album covers into mp3 files?
Some audio players have that functionality. For example Strawberry.
You could also use mp3tag package from AUR.
I use kid3 from Manjaro's repositories and KDE family

It also has ability to define custom album covers in metadata, but I don't use this functionality (I edit tags only for fixing title and author)
Besides what others suggested, Easytag and MusicBrainz Picard also give you the ability to add album covers to mp3 files.
One of the BEST tools is Picard (Musicbrainz).
You can set it to do the job in place, or to MOVE the files to your 'organised music' library (I have a separate folder in /Music/Musicbrainz - so I have separate places to select 'all music' which includes downloaded, 'Music' which includes everything in the Music folder and 'Picard' for the curated collection.
Picard will embed album. Strawberry is probably the best for embedding lyrics - if lyrics are abused, with a 'message' about the uploader, you might have to delete/save that so it will automatically re-download lyrics.
And you can download and choose your own image if you don't like the auto-download.
With Picard, you can drag a tune to the 'wrong' album and have it re-tagged (good if you have a few 10cc tracks and want them all to go into your 'Best Of' album rather than 5 different ones).
Ok, you don't like that cover? Add your own…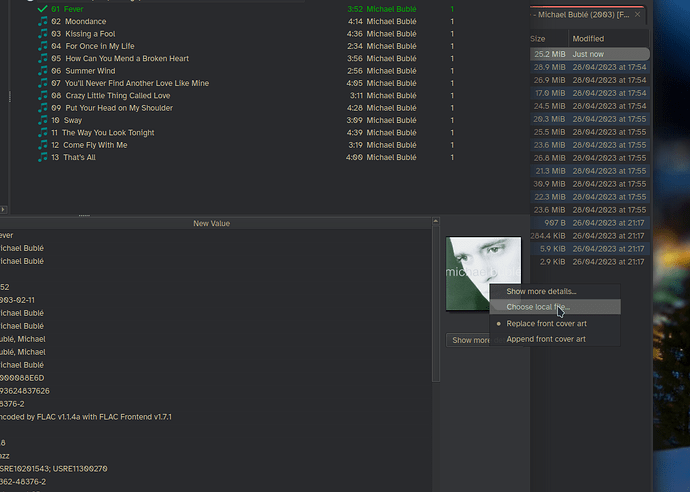 This topic was automatically closed 2 days after the last reply. New replies are no longer allowed.