Hi
I'm trying to get met GoPro Hero 7 working as a webcam so I bought an Atomos Connect 4K capture card and when I try to use it, it does not seem to work out of the box.
In Cheese, I see a video feed but it seems to have a slight delay.
When I open Google Meet or Microsoft Teams and select the "USB video" setting I get this weird screen that just shows the primary colors in vertical bars, like those old TV channels that had no programming. → Solved: this is because of my GoPro shutting down unwanted.
I can't seem to figure out what I'm doing wrong here and my Google skills are coming up short.
Any help would be welcome.
The screen: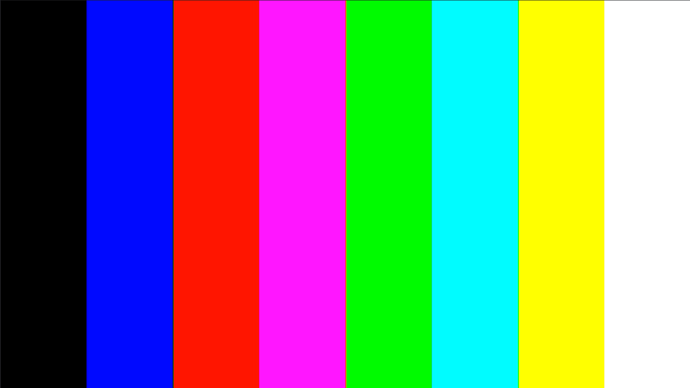 inxi output:
System:
  Kernel: 5.15.21-1-MANJARO x86_64 bits: 64 compiler: gcc v: 11.1.0
    parameters: BOOT_IMAGE=/boot/vmlinuz-5.15-x86_64
    root=UUID=221560a5-3f1c-47a5-972c-a19c5b904970 rw quiet
    cryptdevice=UUID=217d51cf-60d8-41d9-baf9-4cfe69b36363:luks-217d51cf-60d8-41d9-baf9-4cfe69b36363
    root=/dev/mapper/luks-217d51cf-60d8-41d9-baf9-4cfe69b36363
    resume=/dev/mapper/luks-c5808056-670f-494e-8d35-2bb6fdfab985
    udev.log_priority=3 nvidia-drm.modeset=1
  Desktop: GNOME 41.3 tk: GTK 3.24.31 wm: gnome-shell dm: GDM 41.3
    Distro: Manjaro Linux base: Arch Linux
Machine:
  Type: Laptop System: Dell product: Precision 5540 v: N/A
    serial: <superuser required> Chassis: type: 10 serial: <superuser required>
  Mobo: Dell model: 0FMYX6 v: A00 serial: <superuser required> UEFI: Dell
    v: 1.10.0 date: 03/04/2021
Battery:
  ID-1: BAT0 charge: 69.2 Wh (94.8%) condition: 73.0/97.0 Wh (75.2%)
    volts: 12.8 min: 11.4 model: SMP DELL GPM0365 type: Li-ion serial: <filter>
    status: Charging
Memory:
  RAM: total: 30.99 GiB used: 14.09 GiB (45.5%)
  RAM Report:
    permissions: Unable to run dmidecode. Root privileges required.
CPU:
  Info: model: Intel Core i9-9880H bits: 64 type: MT MCP arch: Coffee Lake
    family: 6 model-id: 0x9E (158) stepping: 0xD (13) microcode: 0xEA
  Topology: cpus: 1x cores: 8 tpc: 2 threads: 16 smt: enabled cache:
    L1: 512 KiB desc: d-8x32 KiB; i-8x32 KiB L2: 2 MiB desc: 8x256 KiB
    L3: 16 MiB desc: 1x16 MiB
  Speed (MHz): avg: 1301 high: 4260 min/max: 800/4800 scaling:
    driver: intel_pstate governor: powersave cores: 1: 900 2: 900 3: 1844
    4: 981 5: 849 6: 865 7: 846 8: 805 9: 900 10: 900 11: 900 12: 824 13: 811
    14: 1351 15: 4260 16: 2893 bogomips: 73625
  Flags: 3dnowprefetch abm acpi adx aes aperfmperf apic arat
    arch_capabilities arch_perfmon art avx avx2 bmi1 bmi2 bts clflush
    clflushopt cmov constant_tsc cpuid cpuid_fault cx16 cx8 de ds_cpl dtes64
    dtherm dts epb ept ept_ad erms est f16c flexpriority flush_l1d fma fpu
    fsgsbase fxsr ht hwp hwp_act_window hwp_epp hwp_notify ibpb ibrs
    ibrs_enhanced ida intel_pt invpcid invpcid_single lahf_lm lm mca mce
    md_clear mmx monitor movbe mpx msr mtrr nonstop_tsc nopl nx pae pat pbe
    pcid pclmulqdq pdcm pdpe1gb pebs pge pln pni popcnt pse pse36 pts rdrand
    rdseed rdtscp rep_good sdbg sep sgx sgx_lc smap smep smx ss ssbd sse sse2
    sse4_1 sse4_2 ssse3 stibp syscall tm tm2 tpr_shadow tsc tsc_adjust
    tsc_deadline_timer vme vmx vnmi vpid x2apic xgetbv1 xsave xsavec xsaveopt
    xsaves xtopology xtpr
  Vulnerabilities:
  Type: itlb_multihit status: KVM: VMX disabled
  Type: l1tf status: Not affected
  Type: mds status: Not affected
  Type: meltdown status: Not affected
  Type: spec_store_bypass
    mitigation: Speculative Store Bypass disabled via prctl and seccomp
  Type: spectre_v1
    mitigation: usercopy/swapgs barriers and __user pointer sanitization
  Type: spectre_v2
    mitigation: Enhanced IBRS, IBPB: conditional, RSB filling
  Type: srbds mitigation: TSX disabled
  Type: tsx_async_abort mitigation: TSX disabled
Graphics:
  Device-1: Intel CoffeeLake-H GT2 [UHD Graphics 630] vendor: Dell
    driver: i915 v: kernel bus-ID: 00:02.0 chip-ID: 8086:3e9b class-ID: 0300
  Device-2: NVIDIA TU117GLM [Quadro T2000 Mobile / Max-Q] driver: nvidia
    v: 510.47.03 alternate: nouveau,nvidia_drm bus-ID: 01:00.0
    chip-ID: 10de:1fb8 class-ID: 0302
  Device-3: Microdia Integrated_Webcam_HD type: USB driver: uvcvideo
    bus-ID: 1-12:5 chip-ID: 0c45:6723 class-ID: 0e02
  Device-4: MacroSilicon USB Video type: USB
    driver: hid-generic,snd-usb-audio,usbhid,uvcvideo bus-ID: 1-5.3.1:41
    chip-ID: 534d:2109 class-ID: 0300
  Display: wayland server: X.org 1.21.1.3 compositor: gnome-shell driver:
    loaded: modesetting unloaded: nvidia alternate: fbdev,nouveau,nv,vesa
    display-ID: 0 resolution: <missing: xdpyinfo>
  Message: Unable to show advanced data. Required tool glxinfo missing.
Audio:
  Device-1: Intel Cannon Lake PCH cAVS vendor: Dell driver: snd_hda_intel
    v: kernel alternate: snd_soc_skl,snd_sof_pci_intel_cnl bus-ID: 00:1f.3
    chip-ID: 8086:a348 class-ID: 0403
  Device-2: MacroSilicon USB Video type: USB
    driver: hid-generic,snd-usb-audio,usbhid,uvcvideo bus-ID: 1-5.3.1:41
    chip-ID: 534d:2109 class-ID: 0300
  Device-3: Realtek USB Audio type: USB driver: snd-usb-audio
    bus-ID: 1-5.3.4:39 chip-ID: 0bda:402e class-ID: 0102 serial: <filter>
  Sound Server-1: ALSA v: k5.15.21-1-MANJARO running: yes
  Sound Server-2: PulseAudio v: 15.0 running: no
  Sound Server-3: PipeWire v: 0.3.45 running: yes
Network:
  Device-1: Intel Wireless-AC 9260 driver: iwlwifi v: kernel bus-ID: 3b:00.0
    chip-ID: 8086:2526 class-ID: 0280
  IF: wlp59s0 state: up mac: <filter>
  IP v4: <filter> type: dynamic noprefixroute scope: global
    broadcast: <filter>
  IP v6: <filter> type: dynamic noprefixroute scope: global
  IP v6: <filter> type: noprefixroute scope: link
  Device-2: Realtek RTL8153 Gigabit Ethernet Adapter type: USB
    driver: r8152 bus-ID: 4-1.4:10 chip-ID: 0bda:8153 class-ID: 0000
    serial: <filter>
  IF: enp58s0u1u4 state: up speed: 1000 Mbps duplex: full mac: <filter>
  IP v4: <filter> type: dynamic noprefixroute scope: global
    broadcast: <filter>
  IP v6: <filter> type: dynamic noprefixroute scope: global
  IP v6: <filter> type: noprefixroute scope: link
  IF-ID-1: docker0 state: up speed: 10000 Mbps duplex: unknown
    mac: <filter>
  IP v4: <filter> scope: global broadcast: <filter>
  IP v6: <filter> scope: link
  IF-ID-2: veth76042bd state: up speed: 10000 Mbps duplex: full
    mac: <filter>
  IF-ID-3: vpn0 state: down mac: N/A
  WAN IP: <filter>
Bluetooth:
  Device-1: Intel Wireless-AC 9260 Bluetooth Adapter type: USB driver: btusb
    v: 0.8 bus-ID: 1-4:3 chip-ID: 8087:0025 class-ID: e001
  Report: rfkill ID: hci0 rfk-id: 3 state: up address: see --recommends
Logical:
  Message: No logical block device data found.
  Device-1: luks-217d51cf-60d8-41d9-baf9-4cfe69b36363 maj-min: 254:0
    type: LUKS dm: dm-0 size: 919.47 GiB
  Components:
  p-1: nvme0n1p2 maj-min: 259:2 size: 919.47 GiB
  Device-2: luks-c5808056-670f-494e-8d35-2bb6fdfab985 maj-min: 254:1
    type: LUKS dm: dm-1 size: 34.09 GiB
  Components:
  p-1: nvme0n1p3 maj-min: 259:3 size: 34.1 GiB
RAID:
  Message: No RAID data found.
Drives:
  Local Storage: total: 953.87 GiB used: 112.37 GiB (11.8%)
  SMART Message: Required tool smartctl not installed. Check --recommends
  ID-1: /dev/nvme0n1 maj-min: 259:0 vendor: Intel
    model: SSDPEMKF010T8 NVMe 1024GB size: 953.87 GiB block-size:
    physical: 512 B logical: 512 B speed: 31.6 Gb/s lanes: 4 type: SSD
    serial: <filter> rev: 7003 temp: 24.9 C scheme: GPT
  Message: No optical or floppy data found.
Partition:
  ID-1: / raw-size: 919.47 GiB size: 903.97 GiB (98.31%)
    used: 112.35 GiB (12.4%) fs: ext4 dev: /dev/dm-0 maj-min: 254:0
    mapped: luks-217d51cf-60d8-41d9-baf9-4cfe69b36363 label: N/A
    uuid: 221560a5-3f1c-47a5-972c-a19c5b904970
  ID-2: /boot/efi raw-size: 300 MiB size: 299.4 MiB (99.80%)
    used: 452 KiB (0.1%) fs: vfat dev: /dev/nvme0n1p1 maj-min: 259:1
    label: NO_LABEL uuid: 5B48-3958
Swap:
  Kernel: swappiness: 60 (default) cache-pressure: 100 (default)
  ID-1: swap-1 type: partition size: 34.09 GiB used: 21.2 MiB (0.1%)
    priority: -2 dev: /dev/dm-1 maj-min: 254:1
    mapped: luks-c5808056-670f-494e-8d35-2bb6fdfab985 label: N/A
    uuid: faa93ca4-13ae-4470-adb8-ebe0e33a2722
Unmounted:
  Message: No unmounted partitions found.
USB:
  Hub-1: 1-0:1 info: Hi-speed hub with single TT ports: 16 rev: 2.0
    speed: 480 Mb/s chip-ID: 1d6b:0002 class-ID: 0900
  Device-1: 1-4:3 info: Intel Wireless-AC 9260 Bluetooth Adapter
    type: Bluetooth driver: btusb interfaces: 2 rev: 2.0 speed: 12 Mb/s
    power: 100mA chip-ID: 8087:0025 class-ID: e001
  Hub-2: 1-5:35 info: Realtek Dell dock ports: 5 rev: 2.1 speed: 480 Mb/s
    chip-ID: 0bda:5487 class-ID: 0900
  Hub-3: 1-5.3:36 info: Realtek Dell dock ports: 6 rev: 2.1 speed: 480 Mb/s
    chip-ID: 0bda:5413 class-ID: 0900
  Device-1: 1-5.3.1:41 info: MacroSilicon USB Video type: Video,Audio,HID
    driver: hid-generic,snd-usb-audio,usbhid,uvcvideo interfaces: 5 rev: 2.0
    speed: 480 Mb/s power: 500mA chip-ID: 534d:2109 class-ID: 0300
  Device-2: 1-5.3.3:38 info: Microsoft Wireless Receiver 1461C
    type: Keyboard,Mouse,HID driver: hid-generic,usbhid interfaces: 3 rev: 2.0
    speed: 12 Mb/s power: 100mA chip-ID: 045e:07a5 class-ID: 0300
  Device-3: 1-5.3.4:39 info: Realtek USB Audio type: Audio
    driver: snd-usb-audio interfaces: 4 rev: 2.0 speed: 480 Mb/s power: 500mA
    chip-ID: 0bda:402e class-ID: 0102 serial: <filter>
  Device-4: 1-5.3.5:40 info: Dell Dell dock type: HID
    driver: hid-generic,usbhid interfaces: 1 rev: 2.0 speed: 480 Mb/s
    power: 100mA chip-ID: 413c:b06f class-ID: 0300
  Device-5: 1-5.5:37 info: Dell Dell dock type: HID
    driver: hid-generic,usbhid interfaces: 1 rev: 2.0 speed: 480 Mb/s
    power: 100mA chip-ID: 413c:b06e class-ID: 0300
  Device-6: 1-7:4 info: Shenzhen Goodix Fingerprint Reader
    type: Abstract (modem),CDC-Data driver: N/A interfaces: 2 rev: 2.0
    speed: 12 Mb/s power: 100mA chip-ID: 27c6:5395 class-ID: 0a00
    serial: <filter>
  Device-7: 1-12:5 info: Microdia Integrated_Webcam_HD type: Video
    driver: uvcvideo interfaces: 2 rev: 2.0 speed: 480 Mb/s power: 500mA
    chip-ID: 0c45:6723 class-ID: 0e02
  Hub-4: 2-0:1 info: Super-speed hub ports: 10 rev: 3.1 speed: 10 Gb/s
    chip-ID: 1d6b:0003 class-ID: 0900
  Hub-5: 3-0:1 info: Hi-speed hub with single TT ports: 2 rev: 2.0
    speed: 480 Mb/s chip-ID: 1d6b:0002 class-ID: 0900
  Hub-6: 4-0:1 info: Super-speed hub ports: 2 rev: 3.1 speed: 10 Gb/s
    chip-ID: 1d6b:0003 class-ID: 0900
  Hub-7: 4-1:8 info: Realtek Dell dock ports: 4 rev: 3.1 speed: 10 Gb/s
    chip-ID: 0bda:0487 class-ID: 0900
  Hub-8: 4-1.3:9 info: Realtek Dell dock ports: 4 rev: 3.1 speed: 5 Gb/s
    chip-ID: 0bda:0413 class-ID: 0900
  Device-1: 4-1.4:10 info: Realtek RTL8153 Gigabit Ethernet Adapter
    type: Network driver: r8152 interfaces: 1 rev: 3.0 speed: 5 Gb/s
    power: 288mA chip-ID: 0bda:8153 class-ID: 0000 serial: <filter>
Sensors:
  System Temperatures: cpu: 47.0 C pch: 47.0 C mobo: N/A
  Fan Speeds (RPM): cpu: 2403 fan-2: 2416
Info:
  Processes: 461 Uptime: 6d 7h 51m wakeups: 44153 Init: systemd v: 250
  tool: systemctl Compilers: gcc: 11.1.0 clang: 13.0.1 Packages: 1237
  pacman: 1221 lib: 346 flatpak: 16 Shell: Zsh v: 5.8 running-in: guake
  inxi: 3.3.12