Hello Everyone! Greetings!
I apologize if I made a mistake by posting here, This is my first post here, let me know if I need to follow a certain rule before posting any issue.
I am using the Unstable GNOME at the moment.
My specs are-
Manjaro Linux GNOME
Linux 6.4.0-1-MANJARO
Wayland
16 GB RAM with 20 GB SWAP
AMD Ryzen™ 7 5700G with Radeon™ Graphics × 16
ASUS ROG STRIX B550-F GAMING WIFI II
GNOME 44.1
OS Build ID: Rolling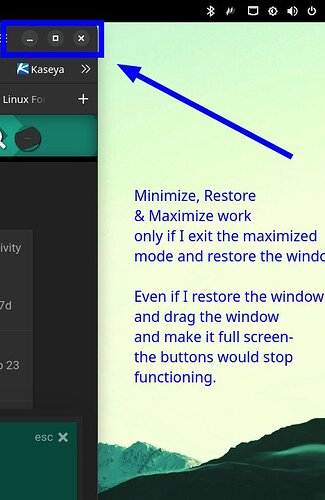 IMPORTANT: I am only observing this issue while using Firefox, MIcrosoft Edge, Skype but if I open Text Edit- G EDIT, Terminal or Resource monitor- on full screen mode, I am not observing any issues at all. The Minimize , Restore and Close button issue- seems to be a problem with specific applications.
[Editing] Another Update-
even if the window is restored [not being maximized] and if I drag it beyond the BLUE Border line as listed in the screenshot below- the button will stop working.
According to the screenshot below- if I move the window to the left hand side- the restore and X will start working as it comes within the Blue Border line-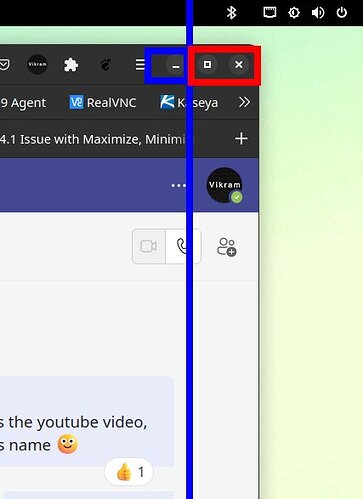 At the same time- it is so weird that the Taskbar Buttons at the very top right hand side work.
its just the minimize restore and X that fail to work - and only few selective applications are affected - not all.
As per the screenshot above, if I click on the Items marked in Red- there will no effect. Not even the MOUSE HOVER effect will appear, but if I move the mouse way up to the top- on the items marked in Blue- then these buttons are always active, clickable and I see the hover effect as well.