Hey there friends.
I was just messing around with the KDE taskbar settings, dragging new widgets in etc., and was suddenly kicked out of the edit menu and the whole thing locked up. I immediately rebooted and that did not fix the issue, the taskbar(s) are there but completely uninteractable, even the clock is stopped. Right-clicking on the desktop doesn't pull up a context menu to re-enter the edit mode, and the Alt+D, Alt+S shortcut I found online isn't working either. Certain other global shortcuts seem to be broken too, but not all of them. How can I get out of this? Thanks in advance.
Pic: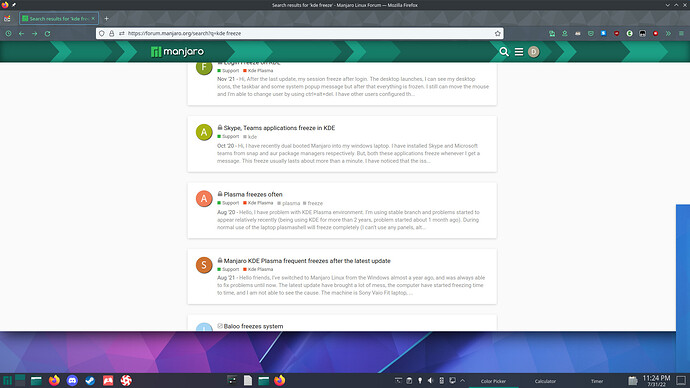 Bottom half of the right edge is supposed to have an auto-hide taskbar.
Side-note can someone explain what the grouping widget is supposed to do? None of the widgets I put into it actually function. Kinda feeling it might have caused the crash as well.
System Info
Kernel: 5.10.109-1-MANJARO arch: x86_64 bits: 64 compiler: gcc v: 11.2.0
    parameters: BOOT_IMAGE=/boot/vmlinuz-5.10-x86_64
    root=UUID=b372f6d7-b299-4755-bfeb-f9b21ff8ab3c rw quiet apparmor=1
    security=apparmor resume=UUID=e8af64ed-62a4-40f2-b41d-f3e0ce63bfe1
    udev.log_priority=3 intel_iommu=on
  Desktop: KDE Plasma v: 5.24.4 tk: Qt v: 5.15.3 wm: kwin_x11 vt: 1 dm: SDDM
    Distro: Manjaro Linux base: Arch Linux
Machine:
  Type: Desktop Mobo: ASRock model: X570 Phantom Gaming 4S
    serial: <superuser required> UEFI: American Megatrends v: P2.60
    date: 04/08/2020
Battery:
  Message: No system battery data found. Is one present?
Memory:
  RAM: total: 15.62 GiB used: 3.21 GiB (20.6%)
  RAM Report:
    permissions: Unable to run dmidecode. Root privileges required.
CPU:
  Info: model: AMD Ryzen 5 3600 bits: 64 type: MT MCP arch: Zen 2
    family: 0x17 (23) model-id: 0x71 (113) stepping: 0 microcode: 0x8701013
  Topology: cpus: 1x cores: 6 tpc: 2 threads: 12 smt: enabled cache:
    L1: 384 KiB desc: d-6x32 KiB; i-6x32 KiB L2: 3 MiB desc: 6x512 KiB
    L3: 32 MiB desc: 2x16 MiB
  Speed (MHz): avg: 2267 high: 3598 min/max: 2200/4335:4461:4208:4714:4588
    boost: enabled scaling: driver: acpi-cpufreq governor: schedutil cores:
    1: 2235 2: 1976 3: 2169 4: 2211 5: 2194 6: 2197 7: 3598 8: 2032 9: 2009
    10: 2200 11: 2200 12: 2192 bogomips: 86439
  Flags: 3dnowprefetch abm adx aes aperfmperf apic arat avic avx avx2 bmi1
    bmi2 bpext cat_l3 cdp_l3 clflush clflushopt clwb clzero cmov cmp_legacy
    constant_tsc cpb cpuid cqm cqm_llc cqm_mbm_local cqm_mbm_total
    cqm_occup_llc cr8_legacy cx16 cx8 de decodeassists extapic extd_apicid
    f16c flushbyasid fma fpu fsgsbase fxsr fxsr_opt ht hw_pstate ibpb ibs
    irperf lahf_lm lbrv lm mba mca mce misalignsse mmx mmxext monitor movbe
    msr mtrr mwaitx nonstop_tsc nopl npt nrip_save nx osvw overflow_recov pae
    pat pausefilter pclmulqdq pdpe1gb perfctr_core perfctr_llc perfctr_nb
    pfthreshold pge pni popcnt pse pse36 rdpid rdpru rdrand rdseed rdt_a
    rdtscp rep_good sep sev sev_es sha_ni skinit smap smca sme smep ssbd sse
    sse2 sse4_1 sse4_2 sse4a ssse3 stibp succor svm svm_lock syscall tce
    topoext tsc tsc_scale umip v_vmsave_vmload vgif vmcb_clean vme vmmcall
    wbnoinvd wdt xgetbv1 xsave xsavec xsaveerptr xsaveopt xsaves
  Vulnerabilities:
  Type: itlb_multihit status: Not affected
  Type: l1tf status: Not affected
  Type: mds status: Not affected
  Type: meltdown status: Not affected
  Type: spec_store_bypass
    mitigation: Speculative Store Bypass disabled via prctl and seccomp
  Type: spectre_v1
    mitigation: usercopy/swapgs barriers and __user pointer sanitization
  Type: spectre_v2
    mitigation: Retpolines, IBPB: conditional, STIBP: conditional, RSB filling
  Type: srbds status: Not affected
  Type: tsx_async_abort status: Not affected
Graphics:
  Device-1: AMD Navi 10 [Radeon RX 5600 OEM/5600 XT / 5700/5700 XT]
    vendor: Micro-Star MSI driver: amdgpu v: kernel pcie: gen: 4 speed: 16 GT/s
    lanes: 16 ports: active: HDMI-A-1 empty: DP-1,DP-2,DP-3 bus-ID: 0c:00.0
    chip-ID: 1002:731f class-ID: 0300
  Display: x11 server: X.Org v: 1.21.1.3 compositor: kwin_x11 driver: X:
    loaded: amdgpu unloaded: modesetting,radeon alternate: fbdev,vesa
    gpu: amdgpu display-ID: :0 screens: 1
  Screen-1: 0 s-res: 1920x1080 s-dpi: 96 s-size: 508x285mm (20.00x11.22")
    s-diag: 582mm (22.93")
  Monitor-1: HDMI-A-1 mapped: HDMI-A-0 model: Acer SB220Q serial: <filter>
    built: 2020 res: 1920x1080 hz: 75 dpi: 102 gamma: 1.2
    size: 476x268mm (18.74x10.55") diag: 546mm (21.5") ratio: 16:9 modes:
    max: 1920x1080 min: 720x400
  OpenGL: renderer: AMD Radeon RX 5700 XT (NAVI10 DRM 3.40.0
    5.10.109-1-MANJARO LLVM 13.0.1)
    v: 4.6 Mesa 21.3.8 direct render: Yes
Audio:
  Device-1: Creative Labs CA0108/CA10300 [Sound Blaster Audigy Series]
    driver: snd_emu10k1 v: kernel bus-ID: 05:00.0 chip-ID: 1102:0008
    class-ID: 0401
  Device-2: AMD Navi 10 HDMI Audio driver: snd_hda_intel v: kernel pcie:
    gen: 4 speed: 16 GT/s lanes: 16 bus-ID: 0c:00.1 chip-ID: 1002:ab38
    class-ID: 0403
  Device-3: AMD Starship/Matisse HD Audio vendor: ASRock
    driver: snd_hda_intel v: kernel pcie: gen: 4 speed: 16 GT/s lanes: 16
    bus-ID: 0e:00.4 chip-ID: 1022:1487 class-ID: 0403
  Device-4: JMTek LLC. TKGOU PnP USB Microphone type: USB
    driver: hid-generic,snd-usb-audio,usbhid bus-ID: 5-4:4 chip-ID: 0c76:1467
    class-ID: 0300 serial: <filter>
  Sound Server-1: ALSA v: k5.10.109-1-MANJARO running: yes
  Sound Server-2: JACK v: 1.9.20 running: no
  Sound Server-3: PulseAudio v: 15.0 running: yes
  Sound Server-4: PipeWire v: 0.3.49 running: yes