I installed firefox-nightly from the AUR after reinstalling manjaro (gnome edition this time) and everything worked fine, but after inserting the backup of my profile suddenly it's wonky. The "Firefox Nightly" icon in the app drawer still launches the browser properly, but when other applications try to open a link I get a "firefox is already running" error.
On top of that, the icon in the dock shows up as a grey gear with no options to "favorite" or "show details", as if it was just a command that was running or something. Here's a picture: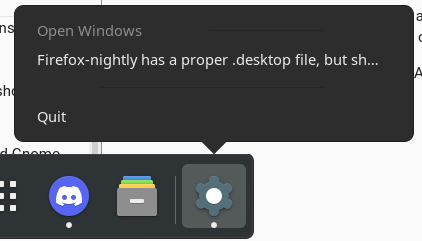 I've tried reinstalling the package to no avail. Any help would be appreciated, as I haven't used Gnome since 3.2 probably.