So google has changed its api security and now event calendar will not connect to google calendar. It might be quite a long time before anything is fixed here Access blocked: KDE Event Calendar Widget's request is invalid · Issue #331 · Zren/plasma-applet-eventcalendar · GitHub
So im looking for an alternative.
I have installed Kalendar.
It says that the pop-up calendar on the digital clock should have an option to set it up to work with Kalendar, but when i look at the digital clock widget settings it does not have such an option and i can not get the pop-up calendar to show any data from Kalendar at all?
Does Kalendar work with Plasma's digital clock calendar widget?

Yes. This can be configured by right-clicking on the digital clock → Configure digital clock… → Calendar → enable PIM Events Plugin

This should reveal a new section in the widget settings, letting you configure which calendars' events will be visible in the widget.
But my setting look like this:-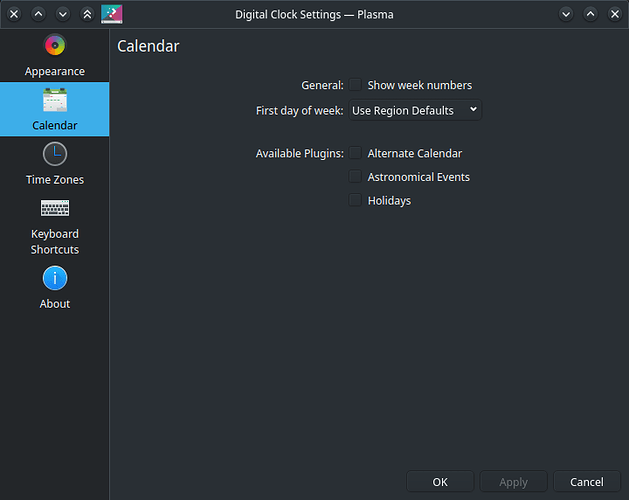 I'm sure that all distros would have a calendar widget in the tray/taskbar/panel type setup, but i'm having a bit of trouble for some reason now that event calendar is broken. Any advice please, thx.