Hi everyone,
I currently trying to get Manjaro Gnome to Install on a ZFS partitioned disk. I have a fat formatted EFI partition, a ZFS formatted boot partition and a ZFS formatted and nativly encrypted root parition. I setup the partitions and then install from the CLI using the setup command to start the architect like installer.
During boot after the installation I get error messages: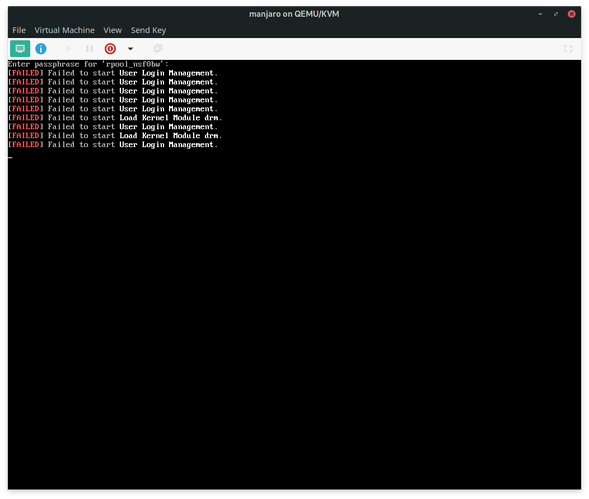 The boot until the mounting of the root partition seems to work fine, since at the point were it asks me for my password for root GRUB must have done it's thing.
The error messages aren't really googleable since the search does not turn up anything that seems related and I can't really tell where my error in this process is since I do not really now what these messages mean.
Any input on the topic is greatly appreciated!
If this is of any concern this is what I do during the install process:
# create a short handle to reference the ssd by id
DISK=/dev/disk/by-id/ata-Samsung_SSD_850_EVO_500GB_S21LKWKGB18228E    

# format the disk into:
# 512M EFI, 2GB zfs boot pool, zfs root pool filling everything but the last 8GB, 8GB swap partition at the end of the disk
sudo sgdisk --zap-all $DISK
sudo sgdisk -n1:0:+512M -t1:EF00 $DISK
sudo sgdisk -n2:0:+2G $DISK   
sudo sgdisk -n3:0:-8G $DISK     
sudo sgdisk -n4:0:0 $DISK

# create random UUID to append to the zfs pool names so that importing the pools on other computers e.g. for rescue or backing them up won't result into name conflicts
poolUUID=$(dd if=/dev/urandom of=/dev/stdout bs=1 count=100 2>/dev/null |tr -dc 'a-z0-9' | cut -c-6)

# The boot-pool called bpool will be created with the following features enabled after checking
# https://wiki.archlinux.org/index.php/ZFS#GRUB-compatible_pool_creation
sudo zpool create \
    -o ashift=12 -o autotrim=on -d \
    -o feature@allocation_classes=enabled \
    -o feature@async_destroy=enabled \
    -o feature@bookmarks=enabled \
    -o feature@embedded_data=enabled \
    -o feature@empty_bpobj=enabled \
    -o feature@enabled_txg=enabled \
    -o feature@extensible_dataset=enabled \
    -o feature@filesystem_limits=enabled \
    -o feature@hole_birth=enabled \
    -o feature@large_blocks=enabled \
    -o feature@lz4_compress=enabled \
    -o feature@project_quota=enabled      \
    -o feature@resilver_defer=enabled     \
    -o feature@spacemap_histogram=enabled \
    -o feature@spacemap_v2=enabled        \
    -o feature@userobj_accounting=enabled \
    -o feature@zpool_checkpoint=enabled   \
    -O acltype=posixacl -O canmount=off -O compression=lz4 \
    -O devices=off -O normalization=formD -O relatime=on -O xattr=sa \
    -O mountpoint=/boot -R /mnt \
    bpool_$poolUUID ${DISK}-part2

# create root-pool following settings list from:
# https://wiki.archlinux.org/index.php/Install_Arch_Linux_on_ZFS#Setup_the_ZFS_filesystem
# For root pool all available features are enabled by default
sudo zpool create \
	-f -o ashift=12 -o autotrim=on \
	-O acltype=posixacl       \
    -O relatime=on            \
    -O xattr=sa               \
    -O dnodesize=legacy       \
    -O normalization=formD    \
    -O mountpoint=none        \
    -O canmount=off           \
    -O devices=off            \
    -R /mnt                   \
    -O compression=lz4        \
    -O encryption=aes-256-gcm \
    -O keyformat=passphrase   \
    -O keylocation=prompt     \
    rpool_$poolUUID ${DISK}-part3
Password: password

# creating datasets. Nothing is stored directly under bpool and rpool, hence: canmount=off!
# canmount is set to noauto as mentioned here: https://wiki.archlinux.org/index.php/Install_Arch_Linux_on_ZFS#Create_your_datasets
sudo zfs create -o canmount=off -o mountpoint=none rpool_$poolUUID/HOME
sudo zfs create -o canmount=off -o mountpoint=none rpool_$poolUUID/ROOT
sudo zfs create -o canmount=off -o mountpoint=none bpool_$poolUUID/BOOT
sudo zfs create -o mountpoint=/ -o canmount=noauto rpool_$poolUUID/ROOT/default
sudo zfs mount rpool_$poolUUID/ROOT/default
sudo zfs create -o mountpoint=legacy bpool_$poolUUID/BOOT/default
sudo mkdir /mnt/boot
sudo mount -t zfs bpool_$poolUUID/BOOT/default /mnt/boot
sudo zfs create -o mountpoint=/home rpool_$poolUUID/HOME/default
sudo zfs create -o mountpoint=/root rpool_$poolUUID/HOME/default/root

# formatting and mounting the EFI partition
sudo mkfs.vfat -n EFI $DISK-part1
sudo mkdir /mnt/boot/efi
sudo mount $DISK-part1 /mnt/boot/efi

# configuring the root filesystem as advised here:
# https://wiki.archlinux.org/index.php/Install_Arch_Linux_on_ZFS#Configure_the_root_filesystem
sudo zpool set bootfs=rpool_$poolUUID/ROOT/default rpool_$poolUUID
sudo zpool set cachefile=/etc/zfs/zpool.cache rpool_$poolUUID
sudo zpool set cachefile=/etc/zfs/zpool.cache bpool_$poolUUID

# Now install the base Manjaro system using the "setup" command from the livecd
# don't forget to add additional packages to the installation needed are:
1. linux510-headers
2. linux54-headers
3. zfs-dmks
4. cryptsetup
# use the installer to setup system/configure base and generate the fstab
# chroot into installation 
# comment out all non-legacy datasets in the /etc/fstab apart from the boot/EFI partition
# and the bpool_$poolUUID/BOOT/default partition
mkinitcpio -P
exit

# copy over the zpool.cache file to the new systemsu
sudo cp /etc/zfs/zpool.cache /mnt/etc/zfs/zpool.cache

# add encrypted swap partition to the system
# swap $DISK-part4 /dev/urandom swap,cipher=aes-cbc-essiv:sha256,size=256
# to /mnt/etc/crypttab 
# /dev/mapper/swap none swap defaults 0 0
# to /mnt/etc/fstab

# chroot into installation at /mnt to install grub
sudo pacman -S grub efibootmgr
ZPOOL_VDEV_NAME_PATH=1 grub-install --target=x86_64-efi --efi-directory=/boot/efi --bootloader-id=Manjaro

# now we need to fix some issues in regards to grub

# 1. first we need to apply a fix as mentioned here: https://wiki.archlinux.org/index.php/Install_Arch_Linux_on_ZFS#Root_pool_missing_from_grub.cfg
# to do this edit /mnt/etc/grub.d/10_linux and replace the line starting with "rpool=" with the following string
rpool=`${grub_probe} --device ${GRUB_DEVICE} --target=fs_label 
2>/dev/null || zdb -l ${GRUB_DEVICE} | awk -F \' '/ name/ { print $2 }'`

# 2. chroot into installation at /mnt and run
sudo mkinitcpio -P
ZPOOL_VDEV_NAME_PATH=1 grub-mkconfig -o /boot/grub/grub.cfg

# following the configure systemd ZFS mounts section at:
# https://wiki.archlinux.org/index.php/Install_Arch_Linux_on_ZFS#Configure_systemd_ZFS_mounts
sudo zpool set cachefile=/etc/zfs/zpool.cache rpool_$poolUUID
sudo zpool set cachefile=/etc/zfs/zpool.cache bpool_$poolUUID
sudo systemctl enable zfs.target --root=/mnt
sudo systemctl enable zfs-import-cache --root=/mnt
sudo systemctl enable zfs-mount --root=/mnt
sudo systemctl enable zfs-import.target --root=/mnt
manjaro-chroot /mnt zgenhostid 19841984 
manjaro-chroot /mnt mkinitcpio -P

sudo umount /mnt/boot/efi
sudo umount /mnt/boot
sudo zfs umount -a
sudo zfs umount rpool_$poolUUID/ROOT/default
sudo zpool export bpool_$poolUUID
sudo zpool export rpool_$poolUUID