EDIT: Solution Indeed, the guide below has version 6 of DeDRM, but Calibre 6.x requires a newer version as stated in the "windows" issue below.
Release v10.0.3 · noDRM/DeDRM_tools · GitHub Here is a link to the newer version that worked on my install.
Here's a pastebin output.
I've just recently installed Manjaro (Gnome) on my desktop. Loving it so far, but I'm in the process of trying to get Calibre up and running correctly.
I'm specifically having difficulty installing the DeDRM plugin "from file."
This is the guide I'm following, which is fine and not the issue…I've used it before on other distros just fine.
This error is the issue: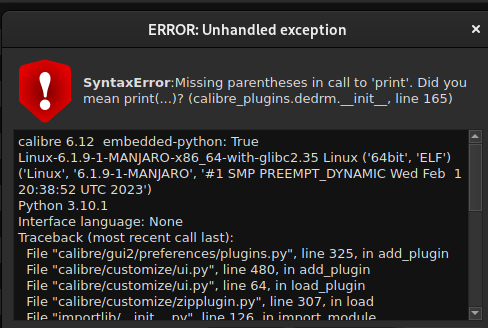 The output from this is what's in the pastebin. I'm not very technically inclined, so I'm not exactly sure what I'm looking at here. I'm sure it's simple. But it happened with the Official repository Calibre as well as the Flatpak one.