After updating I get this error in Chromium ( 100.0.4896.127 (Build oficial) Arch Linux (64 bits) ) when opening Youtube (and other pages like Spotify):
Error code: SIGSEGV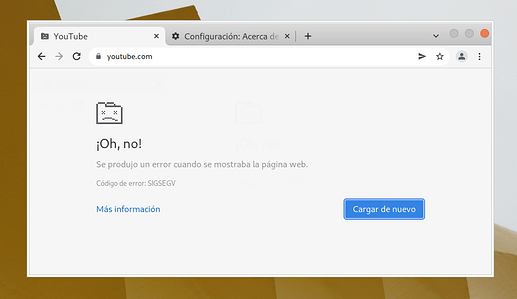 I have tried several things but without much success. I'm using Firefox while I'm trying to fix it.
Update
when checking dmesg I found this:
chromium[156451]: segfault at 18 ip 00007fb46e0e45e2 sp 00007ffc22a597b0 error 4 in libfreetype.so.6.18.2[7fb46e0be000+82000]

Solution
I installed the google-chrome package from AUR.
1 aur/google-chrome 100.0.4896.127-1 (+2129 24.08) 
The popular and trusted web browser by Google (Stable Channel)

And it is working fine. I'll keep an eye out for a chromium update to fix the problem.