Hi guys!
I have a strange issue…
I have two monitors attached to my PC and naturally I want to use the higher resolution one as my primary and the other as a secondary monitor.
Now, every time i shutdown or reboot my configuration disappears, leaving me with my small monitor as primary and the other as secondary (of course).
The funny thing is that, just after boot my xrandr output is
Screen 0: minimum 8 x 8, current 3360 x 1080, maximum 32767 x 32767
DP1 connected 1440x900+0+0 (normal left inverted right x axis y axis) 410mm x 260mm
   1440x900      59.89*+  74.98  
   1280x1024     75.02    60.02  
   1280x960      60.00  
   1280x800      74.93    59.81  
   1152x864      75.00  
   1024x768      75.03    70.07    60.00  
   832x624       74.55  
   800x600       72.19    75.00    60.32    56.25  
   640x480       75.00    72.81    66.67    59.94  
   720x400       70.08  
HDMI1 connected primary 1920x1080+1440+0 (normal left inverted right x axis y axis) 530mm x 300mm
   1920x1080     60.00 +  74.97*   50.00    59.94  
   1920x1080i    60.00    50.00    59.94  
   1680x1050     59.88  
   1280x1024     75.02    60.02  
   1440x900      59.90  
   1280x960      60.00  
   1280x720      60.00    50.00    59.94  
   1024x768      75.03    70.07    60.00  
   832x624       74.55  
   800x600       72.19    75.00    60.32    56.25  
   720x576       50.00  
   720x480       60.00    59.94  
   640x480       75.00    72.81    66.67    60.00    59.94  
   720x400       70.08  
HDMI2 disconnected (normal left inverted right x axis y axis)
VIRTUAL1 disconnected (normal left inverted right x axis y axis)

So plasma recognize which is my primary monitor correctly.
That's confirmed by giving a look to system settings in display section, where right after boot I see: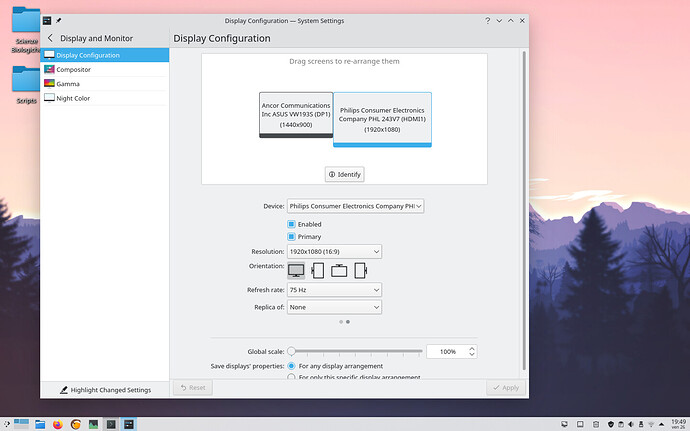 Even though my actual primary monitor is still the small one.
Now, I read that it's a bug in plasma and it's been here with us for at least 10 years, so there are a lot of solution on the web, however none of them appllies to my case: for example, I wrote a simple bash script to launch at start:
#!/usr/bin/env bash

xrandr --output HDMI1 --primary --mode 1920x1080 --rate 74.97 --output DPI1 --mode 1440x900 --rate 74.98 --left-of HDMI1

but it doesn't work because plasma applies the same settings at boot, even if for some reason it messes up my monitor selection.
What can I do?