In a nutshell: How do I install Manjaro alongside Ubuntu properly?
I have Ubuntu, for now. I made a bootable USB and booted to there (I'm writing this with live USB). I love it! It's clean and customizable, and I really want to install it on my HDD. It was for backup, but okay who cares.
I've tried dual boot setup before, and it fails. Sigh. I don't want a similar problem happen for the second time, so I asked here.
My guess is Manjaro will detect Ubuntu because… it will. Perhaps so. On Ubuntu, there's an option for installing Ubuntu alongside other OS, but not for Manjaro. How do I install Manjaro along with Ubuntu on a separate drive? Do I need to just install it normally and Manjaro will do the rest stuff?
What I'm going to do:
Manjaro installer says that it will use EFI partition from first drive (where Ubuntu is installed to)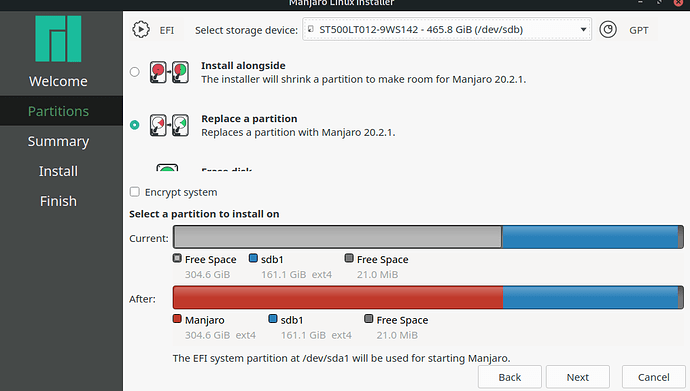 Some outputs & informations
Neofetch:
OS: Manjaro Linux x86_64 
 Host: 20244 Lenovo G400s 
 Kernel: 5.9.16-1-MANJARO 
 Uptime: 1 hour, 12 mins 
 Packages: 1125 (pacman) 
 Shell: zsh 5.8 
 Resolution: 1366x768 
 DE: GNOME 3.38.2 
 WM: Mutter 
 WM Theme: Matcha-dark-sea 
 Theme: Matcha-sea [GTK2/3] 
 Icons: Papirus-Dark-Maia [GTK2/3] 
 Terminal: gnome-terminal 
 CPU: Intel i3-3120M (4) @ 2.500GHz 
 GPU: Intel 3rd Gen Core processor Graphics Contr 
 GPU: NVIDIA GeForce 610M/710M/810M/820M / GT 620 
 Memory: 2376MiB / 3799MiB 

sudo fdisk -l:
Disk /dev/sda: 232.89 GiB, 250059350016 bytes, 488397168 sectors
Disk model: Samsung SSD 870 
Units: sectors of 1 * 512 = 512 bytes
Sector size (logical/physical): 512 bytes / 512 bytes
I/O size (minimum/optimal): 512 bytes / 512 bytes
Disklabel type: gpt
Disk identifier: 1CFF7FC7-8F29-4AFA-91F4-A6815150470E

Device         Start       End   Sectors  Size Type
/dev/sda1       2048   1953791   1951744  953M EFI System
/dev/sda2    1953792 197265407 195311616 93.1G Linux filesystem
/dev/sda3  197265408 392577023 195311616 93.1G Linux filesystem
/dev/sda4  392577024 400390143   7813120  3.7G Linux swap


Disk /dev/sdb: 465.76 GiB, 500107862016 bytes, 976773168 sectors
Disk model: ST500LT012-9WS14
Units: sectors of 1 * 512 = 512 bytes
Sector size (logical/physical): 512 bytes / 4096 bytes
I/O size (minimum/optimal): 4096 bytes / 4096 bytes
Disklabel type: gpt
Disk identifier: EE1427AE-E72F-4C98-96A0-ECDA018CD5E8

Device         Start       End   Sectors   Size Type
/dev/sdb1  638810112 976730111 337920000 161.1G Linux filesystem


Disk /dev/loop0: 78.78 MiB, 82604032 bytes, 161336 sectors
Units: sectors of 1 * 512 = 512 bytes
Sector size (logical/physical): 512 bytes / 512 bytes
I/O size (minimum/optimal): 512 bytes / 512 bytes


Disk /dev/loop1: 369.54 MiB, 387485696 bytes, 756808 sectors
Units: sectors of 1 * 512 = 512 bytes
Sector size (logical/physical): 512 bytes / 512 bytes
I/O size (minimum/optimal): 512 bytes / 512 bytes


Disk /dev/loop2: 830.33 MiB, 870662144 bytes, 1700512 sectors
Units: sectors of 1 * 512 = 512 bytes
Sector size (logical/physical): 512 bytes / 512 bytes
I/O size (minimum/optimal): 512 bytes / 512 bytes


Disk /dev/loop3: 667.84 MiB, 700276736 bytes, 1367728 sectors
Units: sectors of 1 * 512 = 512 bytes
Sector size (logical/physical): 512 bytes / 512 bytes
I/O size (minimum/optimal): 512 bytes / 512 bytes


Disk /dev/sdc: 3.61 GiB, 3878043648 bytes, 7574304 sectors
Disk model: TransMemory     
Units: sectors of 1 * 512 = 512 bytes
Sector size (logical/physical): 512 bytes / 512 bytes
I/O size (minimum/optimal): 512 bytes / 512 bytes
Disklabel type: dos
Disk identifier: 0x00000000

Device     Boot   Start     End Sectors Size Id Type
/dev/sdc1  *         64 4124435 4124372   2G  0 Empty
/dev/sdc2       4124436 4132627    8192   4M ef EFI (FAT-12/16/32)

Firmware Stuffs
Ubuntu boot type: UEFI
Manjaro boot type (that I wanted): UEFI
Secure boot: On (I'll disable later)