Hi all,
since the update that deprecated nvidia drivers my display lags ie. I click or scroll in an application, nothing happens on screen and the item is clicked/screen is scrolled only after one to several seconds (the screen is like refreshed but several seconds late).
I'm on kde, kernel 5.4.105
inxi -G

Graphics:  Device-1: Intel UHD Graphics 630 driver: i915 v: kernel
       Device-2: NVIDIA GP107M [GeForce GTX 1050 Ti Mobile] driver: N/A
       Device-3: Microdia Integrated_Webcam_HD type: USB driver: uvcvideo
       Display: x11 server: X.Org 1.20.10 driver: loaded: intel resolution: 1920x1080~60Hz
       OpenGL: renderer: Mesa Intel UHD Graphics 630 (CFL GT2) v: 4.6 Mesa 20.3.4

My graphics drivers after the update :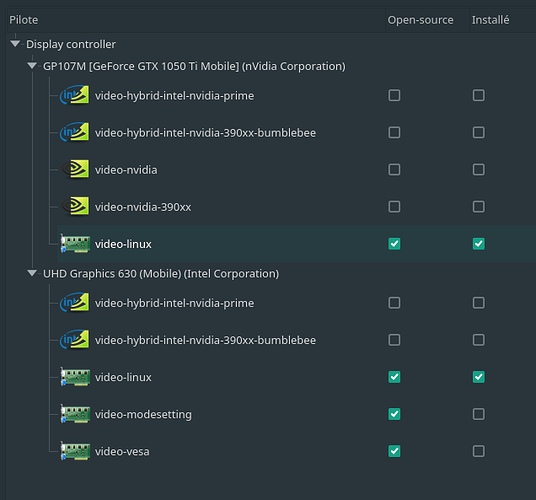 My drivers before the update
mhwd -li

    mhwd -li
> Installed PCI configs:

                  NAME               VERSION          FREEDRIVER           TYPE

video-hybrid-intel-nvidia-430xx-bumblebee            2019.10.25               false            PCI
           video-linux            2018.05.04                true            PCI

It happens only in some apps (I suspect those that make use of the gpu), like dolphin, firefox, spotify.
What are my options here to prevent this from happening ?
Also I have this in system logs :
systemd[1]: Started Bumblebee C Daemon.
bumblebeed[7928]: Module 'nvidia' is not found.
systemd[1]: bumblebeed.service: Main process exited, code=exited, status=1/FAILURE
systemd[1]: bumblebeed.service: Failed with result 'exit-code'.


It happens nearly every minute so I guess I should uninstall bumblebee, but I'm afraid I could delete something that shouldn't be uninstalled in the process through dependencies so I prefer ask here first.
pactree -r bumblebee
bumblebee
├─lib32-primus
└─primus
  └─bumblebee