Hi I wonder if anyone has encountered an error with Discover recently that states either or both of the following: " 'package name; version; architecture; source': could not find or read package" or "Error while fetching reviews: Error transferring 'web address' - server replied: Bad Gateway".
I'm seeing this with all sources except for Flatpak.
An example of this is in the attached screenshot.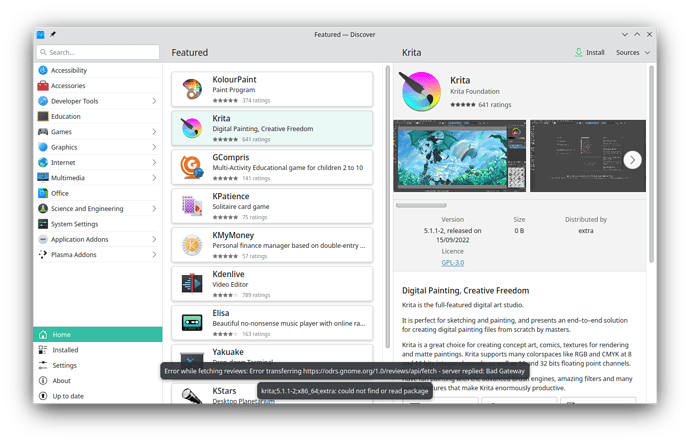 I have executed 'sudo pacman -Syyu' in an effort to fix this and have asked Uncle Google but haven't come across this specific issue. I have also removed and reinstalled the Discover app using the add/remove Software application.
Attached system info below, and moved to the newer Kernel after the issue first appeared about a week ago now for me.
Operating System: Manjaro Linux
KDE Plasma Version: 5.26.2
KDE Frameworks Version: 5.99.0
Qt Version: 5.15.6
Kernel Version: 6.0.6-1-MANJARO (64-bit)
Graphics Platform: X11
Processors: 6 × AMD Ryzen 5 4500U with Radeon Graphics
Memory: 15.0 GiB of RAM
Graphics Processor: RENOIR
Manufacturer: HP
Product Name: HP ProBook 455 G7

Is there a way the verify the integrity of the system/packages that I'm too blind to see in the wiki or forum? Apologies if this has an obvious answer.
Thanks in advance.
PS the packages will still download and install as far as I can tell and run as expected.