This is not a problem per se, but it confuses me and I think I see this kind of thing for the first time.
Yesterday I installed new Manjaro Xfce installation on disk sda1. There were also previous installations of Manjaro present on this laptop, namely on sda2 and sda4. I distinctly remember that I installed this latest OS on sda1 because it used to be ntfs and I formatted it as ext4 for Manjaro.
While the OS is booting, it writes that it is booting from sda1. However, if I type sfdisk -l in terminal, it shows sda4 as the current boot partition:
$ sudo sfdisk -l
[sudo] password for blueflame71: 
Disk /dev/sda: 931.51 GiB, 1000204886016 bytes, 1953525168 sectors
Disk model: ST1000LM024 HN-M
Units: sectors of 1 * 512 = 512 bytes
Sector size (logical/physical): 512 bytes / 512 bytes
I/O size (minimum/optimal): 512 bytes / 512 bytes
Disklabel type: dos
Disk identifier: 0x32774d96

Device     Boot      Start        End   Sectors   Size Id Type
/dev/sda1             2048  496197631 496195584 236.6G 83 Linux
/dev/sda2        496197632 1212997631 716800000 341.8G 83 Linux
/dev/sda3       1212997632 1264197631  51200000  24.4G 82 Linux swap / Solaris
/dev/sda4  *    1264197632 1953523711 689326080 328.7G 83 Linux
Gparted also shows that sda4 is the boot partition: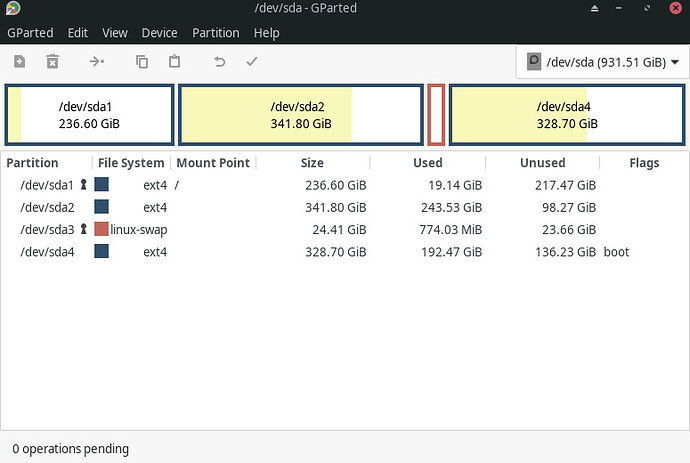 Interestingly, Gparted says that sda4 is not mounted. So how can an unmounted partition be the one from which the current OS is booted? Could someone please clarify this for me?