Hello Manjaro KDE users
I hope you can help out an MX Linux KDE user. I am trying to configure the "System Monitor Sensor" widget for the taskbar to monitor CPU, RAM and GPU use. However, there is no entry for "GPU" there: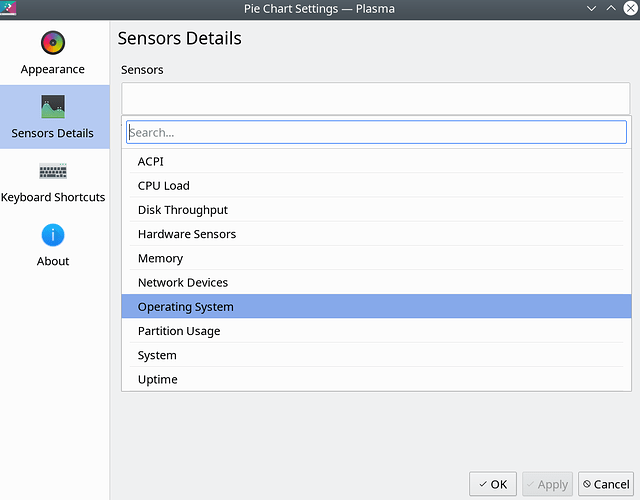 I also tried with a newer Debian based distro and booted the Kubuntu 22.04 daily build live ISO, but still there was no entry for GPU there. Half a year ago I was using Manjaro KDE, which was then using a slightly older KDE version than Kubuntu 22.04 today, but it already had the "GPU" entry in this widget. So I was wondering where this "GPU" entry comes from and if I can somehow add it to my MX Linux installation.
Thank you for your help.
Here's my system info from within MX Linux:
Snapshot created on: 20220312_1950
System:    Kernel: 5.15.0-3mx-amd64 x86_64 bits: 64 compiler: gcc v: 10.2.1 
           parameters: BOOT_IMAGE=/boot/vmlinuz-5.15.0-3mx-amd64 root=UUID=<filter> 
           ro quiet splash init=/lib/systemd/systemd 
           Desktop: KDE Plasma 5.20.5 wm: kwin_x11 vt: 7 dm: SDDM 
           Distro: MX-21_KDE_x64 Wildflower October 20  2021 base: Debian GNU/Linux 11 (bullseye) 
Machine:   Type: Desktop System: ASUS product: N/A v: N/A serial: <filter> 
           Mobo: ASUSTeK model: ROG STRIX B550-F GAMING (WI-FI) v: Rev X.0x serial: <filter> 
           UEFI: American Megatrends v: 2423 date: 08/10/2021 
CPU:       Info: 8-Core model: AMD Ryzen 7 5700G with Radeon Graphics bits: 64 type: MT MCP arch: Zen 3 
           family: 19 (25) model-id: 50 (80) stepping: 0 microcode: A50000C cache: L2: 4 MiB 
           flags: avx avx2 lm nx pae sse sse2 sse3 sse4_1 sse4_2 sse4a ssse3 svm bogomips: 121605 
           Speed: 2389 MHz min/max: 1400/3800 MHz boost: enabled Core speeds (MHz): 1: 2389 2: 2624 3: 3480 
           4: 2825 5: 2131 6: 2365 7: 3028 8: 3634 9: 2360 10: 4443 11: 2715 12: 2262 13: 2664 14: 2843 15: 2266 
           16: 2456 
           Vulnerabilities: Type: itlb_multihit status: Not affected 
           Type: l1tf status: Not affected 
           Type: mds status: Not affected 
           Type: meltdown status: Not affected 
           Type: spec_store_bypass mitigation: Speculative Store Bypass disabled via prctl and seccomp 
           Type: spectre_v1 mitigation: usercopy/swapgs barriers and __user pointer sanitization 
           Type: spectre_v2 
           mitigation: Full AMD retpoline, IBPB: conditional, IBRS_FW, STIBP: always-on, RSB filling 
           Type: srbds status: Not affected 
           Type: tsx_async_abort status: Not affected 
Graphics:  Device-1: Advanced Micro Devices [AMD/ATI] Cezanne vendor: ASUSTeK driver: amdgpu v: kernel 
           bus-ID: 08:00.0 chip-ID: 1002:1638 class-ID: 0300 
           Display: x11 server: X.Org 1.20.13 compositor: kwin_x11 driver: loaded: amdgpu,ati 
           unloaded: fbdev,modesetting,vesa display-ID: :0 screens: 1 
           Screen-1: 0 s-res: 3840x2160 s-dpi: 96 s-size: 1016x571mm (40.0x22.5") s-diag: 1165mm (45.9") 
           Monitor-1: DisplayPort-0 res: 3840x2160 hz: 60 dpi: 140 size: 698x393mm (27.5x15.5") 
           diag: 801mm (31.5") 
           OpenGL: renderer: AMD RENOIR (DRM 3.42.0 5.15.0-3mx-amd64 LLVM 12.0.1) v: 4.6 Mesa 21.2.5 
           direct render: Yes 
Audio:     Device-1: Advanced Micro Devices [AMD/ATI] Renoir Radeon High Definition Audio vendor: ASUSTeK 
           driver: snd_hda_intel v: kernel bus-ID: 08:00.1 chip-ID: 1002:1637 class-ID: 0403 
           Device-2: Advanced Micro Devices [AMD] Family 17h HD Audio vendor: ASUSTeK driver: snd_hda_intel 
           v: kernel bus-ID: 08:00.6 chip-ID: 1022:15e3 class-ID: 0403 
           Sound Server-1: ALSA v: k5.15.0-3mx-amd64 running: yes 
           Sound Server-2: PulseAudio v: 14.2 running: yes 
Network:   Device-1: Intel Wi-Fi 6 AX200 driver: iwlwifi v: kernel modules: wl bus-ID: 05:00.0 chip-ID: 8086:2723 
           class-ID: 0280 
           IF: wlan0 state: down mac: <filter> 
           Device-2: Intel Ethernet I225-V vendor: ASUSTeK driver: igc v: kernel port: N/A bus-ID: 06:00.0 
           chip-ID: 8086:15f3 class-ID: 0200 
           IF: eth0 state: up speed: 1000 Mbps duplex: full mac: <filter> 
Bluetooth: Device-1: Intel AX200 Bluetooth type: USB driver: btusb v: 0.8 bus-ID: 1-5:2 chip-ID: 8087:0029 
           class-ID: e001 
           Report: hciconfig ID: hci0 rfk-id: 1 state: up address: <filter> bt-v: 3.0 lmp-v: 5.2 sub-v: 24bf 
           hci-v: 5.2 rev: 24bf 
           Info: acl-mtu: 1021:4 sco-mtu: 96:6 link-policy: rswitch sniff link-mode: slave accept 
           service-classes: rendering, capturing, object transfer, audio 
Drives:    Local Storage: total: 12.28 TiB used: 5.08 TiB (41.4%) 
           SMART Message: Unable to run smartctl. Root privileges required. 
           ID-1: /dev/nvme0n1 maj-min: 259:6 vendor: Samsung model: SSD 970 EVO Plus 500GB size: 465.76 GiB 
           block-size: physical: 512 B logical: 512 B speed: 31.6 Gb/s lanes: 4 type: SSD serial: <filter> 
           rev: 2B2QEXM7 temp: 37.9 C scheme: GPT 
           ID-2: /dev/nvme1n1 maj-min: 259:0 vendor: Western Digital model: WD Blue SN570 1TB size: 931.51 GiB 
           block-size: physical: 512 B logical: 512 B speed: 31.6 Gb/s lanes: 4 type: SSD serial: <filter> 
           rev: 234100WD temp: 34.9 C scheme: GPT 
           ID-3: /dev/sda maj-min: 8:0 vendor: Toshiba model: HDWG21C size: 10.91 TiB block-size: 
           physical: 4096 B logical: 512 B speed: 6.0 Gb/s type: HDD rpm: 7200 serial: <filter> rev: 0601 
           scheme: GPT 
Partition: ID-1: / raw-size: 101.22 GiB size: 99.08 GiB (97.88%) used: 30.17 GiB (30.4%) fs: ext4 
           dev: /dev/nvme0n1p2 maj-min: 259:8 
           ID-2: /boot/efi raw-size: 256 MiB size: 252 MiB (98.46%) used: 274 KiB (0.1%) fs: vfat 
           dev: /dev/nvme0n1p1 maj-min: 259:7 
Swap:      Kernel: swappiness: 15 (default 60) cache-pressure: 100 (default) 
           ID-1: swap-1 type: partition size: 6 GiB used: 0 KiB (0.0%) priority: -2 dev: /dev/nvme0n1p4 
           maj-min: 259:10 
Sensors:   Message: No sensor data found. Is lm-sensors configured? 
Repos:     Packages: 2545 note: see --pkg apt: 2539 lib: 1336 flatpak: 6 
           No active apt repos in: /etc/apt/sources.list 
           Active apt repos in: /etc/apt/sources.list.d/debian-stable-updates.list 
           1: deb http://deb.debian.org/debian bullseye-updates main contrib non-free
           Active apt repos in: /etc/apt/sources.list.d/debian.list 
           1: deb http://deb.debian.org/debian bullseye main contrib non-free
           2: deb http://security.debian.org/debian-security bullseye-security main contrib non-free
           Active apt repos in: /etc/apt/sources.list.d/megasync.list 
           1: deb https://mega.nz/linux/repo/Debian_11/ ./
           Active apt repos in: /etc/apt/sources.list.d/mx.list 
           1: deb http://ftp.halifax.rwth-aachen.de/mxlinux/packages/mx/repo/ bullseye main non-free
           2: deb http://ftp.halifax.rwth-aachen.de/mxlinux/packages/mx/repo/ bullseye ahs
           Active apt repos in: /etc/apt/sources.list.d/onlyoffice.list 
           1: deb https://download.onlyoffice.com/repo/debian squeeze main
           Active apt repos in: /etc/apt/sources.list.d/opera-stable.list 
           1: deb https://deb.opera.com/opera-stable/ stable non-free #Opera Browser (final releases)
           Active apt repos in: /etc/apt/sources.list.d/teams.list 
           1: deb [arch=amd64] https://packages.microsoft.com/repos/ms-teams stable main
           Active apt repos in: /etc/apt/sources.list.d/vivaldi.list 
           1: deb [arch=amd64] https://repo.vivaldi.com/stable/deb/ stable main
Info:      Processes: 383 Uptime: 37m wakeups: 0 Memory: 30.73 GiB used: 6.78 GiB (22.1%) Init: systemd v: 247 
           runlevel: 5 default: 5 tool: systemctl Compilers: gcc: 10.2.1 alt: 10 Shell: bash 
           default: Bash v: 5.1.4 running-in: quick-system-info-mx inxi: 3.3.06 
Boot Mode: UEFI