Hello.
The situation:
I took a break for a walk and left the PC turned on for 1 hour or about it without any work. After 30 minutes PC went into sleep mode and when I returned, I've got the notification message for some KDE config files at /home/poul/.config/ was not writeable. I couldn't close any of these messages as they started to appear after every action: open or close Dolphin, System Monitor, System Settings, interact with KDE Connect and even after I clicked to shutdown the PC. But I had not seen any of these messages after interacting with other apps like Steam or Opera (they had been at the background before I closed them).
So I just rebooted the PC and got File System Check Failed (ext4) on sda (SSD). The image (sorry for the quality, I tried the best of my phone):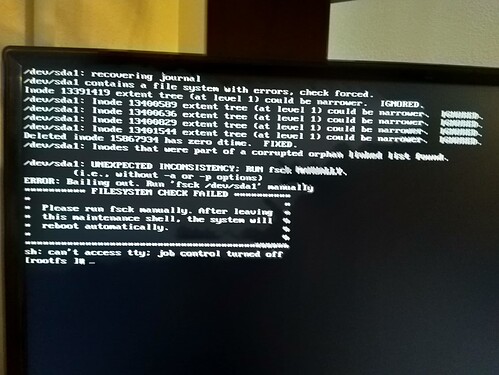 After a simple fsck command it seems like it fixed everything and rebooted my PC normally. Although I don't get any errors anymore and had never got something like that before, PC works fine and…
My questions are: what the was that? Am I supposed to do something now?
And the question that might seem funny, but as it happened when I did nothing with my PC, I am serious: Can filesystem someday just simply die without ability to use fsck to fix it? I guess the only Timeshift is going to save me that day.
I just need an explanation for newbie as I've been using Linux for 10 months and never got into some kind of situation before.