Clicking on the actual popup box of tray notifications or browser push notifications does not open twitter or facebook or the application that the notification came from (like signal or Event-calendar alarms from google calendar), instead they all just open Dolphin?
For example/illustration :- a google calendar test event notification through event-calendar.
Clicking this box just opens Dolphin?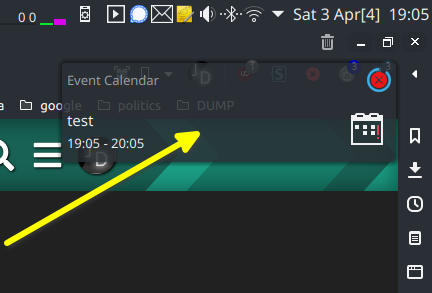 extra/libnotify 0.7.9-1 (50.1 KiB 282.5 KiB) (Installed)
extra/knotifications 5.80.0-1 (410.4 KiB 894.9 KiB) [kf5] (Installed)
Vivaldi 3.7.2218.52
System: Kernel: 5.4.105-1-MANJARO x86_64 bits: 64 compiler: gcc v: 10.2.0 Desktop: KDE Plasma 5.21.3 Distro: Manjaro Linux
base: Arch Linux
Machine: Type: Laptop System: Dell product: Inspiron 5767 v: N/A serial:
Mobo: Dell model: 03XWWJ v: A00 serial: UEFI-[Legacy]: Dell v: 1.0.0 date: 07/14/2016