Hello all,
please let me askyou for your help.
I am using a rather old computer with Manjaro Linux and I am just wondering if hardware-accelerated video playback is possible at all on that rig, using Chromium or Firefox.
I am now entirely confused: There is chromium and chromium-vaapi - and it is said that they are redundant now because chromium also includes vaapi support.
However, chromium-vaapi (AUR) is continued to be maintained.
I am able to enable accelerated video decoding according to the information in the Arch Wiki. However, as soo as it is enabled, I am unable to get any clear video output. Instead of the video contents, fragments from my own desktop appear.
Audio remains fine.
See screenshot: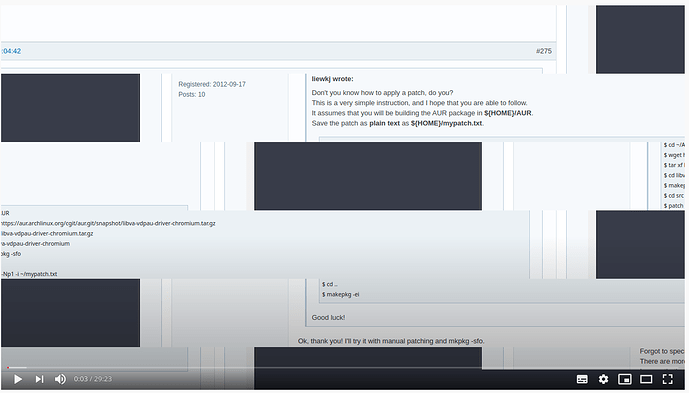 vainfo says:
vainfo: VA-API version: 1.10 (libva 2.10.0)
vainfo: Driver version: Splitted-Desktop Systems VDPAU backend for VA-API - 0.7.4
vainfo: Supported profile and entrypoints
      VAProfileMPEG2Simple            :	VAEntrypointVLD
      VAProfileMPEG2Main              :	VAEntrypointVLD
      VAProfileMPEG4Simple            :	VAEntrypointVLD
      VAProfileMPEG4AdvancedSimple    :	VAEntrypointVLD
      VAProfileH264ConstrainedBaseline:	VAEntrypointVLD
      VAProfileH264Main               :	VAEntrypointVLD
      VAProfileH264High               :	VAEntrypointVLD
      VAProfileVC1Simple              :	VAEntrypointVLD
      VAProfileVC1Main                :	VAEntrypointVLD
      VAProfileVC1Advanced            :	VAEntrypointVLD

vdpauinfo says:
display: :0   screen: 0
API version: 1
Information string: NVIDIA VDPAU Driver Shared Library  390.138  Thu May 14 04:01:38 PDT 2020

Video surface:

name   width height types
-------------------------------------------
420     4096  4096  NV12 YV12 
422     4096  4096  UYVY YUYV 

Decoder capabilities:

name                        level macbs width height
----------------------------------------------------
MPEG1                           0  8192  2048  2048
MPEG2_SIMPLE                    3  8192  2048  2048
MPEG2_MAIN                      3  8192  2048  2048
H264_BASELINE                  41  8192  2048  2048
H264_MAIN                      41  8192  2048  2048
H264_HIGH                      41  8192  2048  2048
VC1_SIMPLE                      1  8190  2048  2048
VC1_MAIN                        2  8190  2048  2048
VC1_ADVANCED                    4  8190  2048  2048
MPEG4_PART2_SP                  3  8192  2048  2048
MPEG4_PART2_ASP                 5  8192  2048  2048
DIVX4_QMOBILE                   0  8192  2048  2048
DIVX4_MOBILE                    0  8192  2048  2048
DIVX4_HOME_THEATER              0  8192  2048  2048
DIVX4_HD_1080P                  0  8192  2048  2048
DIVX5_QMOBILE                   0  8192  2048  2048
DIVX5_MOBILE                    0  8192  2048  2048
DIVX5_HOME_THEATER              0  8192  2048  2048
DIVX5_HD_1080P                  0  8192  2048  2048
H264_CONSTRAINED_BASELINE      41  8192  2048  2048
H264_EXTENDED                  41  8192  2048  2048
H264_PROGRESSIVE_HIGH          41  8192  2048  2048
H264_CONSTRAINED_HIGH          41  8192  2048  2048
H264_HIGH_444_PREDICTIVE       41  8192  2048  2048
VP9_PROFILE_0                  --- not supported ---
VP9_PROFILE_1                  --- not supported ---
VP9_PROFILE_2                  --- not supported ---
VP9_PROFILE_3                  --- not supported ---
HEVC_MAIN                      --- not supported ---
HEVC_MAIN_10                   --- not supported ---
HEVC_MAIN_STILL                --- not supported ---
HEVC_MAIN_12                   --- not supported ---
HEVC_MAIN_444                  --- not supported ---
HEVC_MAIN_444_10               --- not supported ---
HEVC_MAIN_444_12               --- not supported ---

Output surface:

name              width height nat types
----------------------------------------------------
B8G8R8A8         16384 16384    y  Y8U8V8A8 V8U8Y8A8 A4I4 I4A4 A8I8 I8A8 
R10G10B10A2      16384 16384    y  Y8U8V8A8 V8U8Y8A8 A4I4 I4A4 A8I8 I8A8 

Bitmap surface:

name              width height
------------------------------
B8G8R8A8         16384 16384
R8G8B8A8         16384 16384
R10G10B10A2      16384 16384
B10G10R10A2      16384 16384
A8               16384 16384

Video mixer:

feature name                    sup
------------------------------------
DEINTERLACE_TEMPORAL             y
DEINTERLACE_TEMPORAL_SPATIAL     y
INVERSE_TELECINE                 y
NOISE_REDUCTION                  y
SHARPNESS                        y
LUMA_KEY                         y
HIGH QUALITY SCALING - L1        y
HIGH QUALITY SCALING - L2        -
HIGH QUALITY SCALING - L3        -
HIGH QUALITY SCALING - L4        -
HIGH QUALITY SCALING - L5        -
HIGH QUALITY SCALING - L6        -
HIGH QUALITY SCALING - L7        -
HIGH QUALITY SCALING - L8        -
HIGH QUALITY SCALING - L9        -

parameter name                  sup      min      max
-----------------------------------------------------
VIDEO_SURFACE_WIDTH              y         1     4096
VIDEO_SURFACE_HEIGHT             y         1     4096
CHROMA_TYPE                      y  
LAYERS                           y         0        4

attribute name                  sup      min      max
-----------------------------------------------------
BACKGROUND_COLOR                 y  
CSC_MATRIX                       y  
NOISE_REDUCTION_LEVEL            y      0.00     1.00
SHARPNESS_LEVEL                  y     -1.00     1.00
LUMA_KEY_MIN_LUMA                y  
LUMA_KEY_MAX_LUMA                y  

Here is what inxi -Fxxxza -no-host says about that system:
System:    Host: gerd-desktop Kernel: 5.9.16-1-MANJARO x86_64 bits: 64 compiler: gcc v: 10.2.0 
           parameters: BOOT_IMAGE=/boot/vmlinuz-5.9-x86_64 root=UUID=345b76c0-f339-4ca7-8582-440f229512a1 rw quiet 
           acpi_enforce_resources=lax "acpi_osi=Windows 2009" loglevel=3 root=UUID=345b76c0-f339-4ca7-8582-440f229512a1 ro 
           resume=UUID=a9353f2a-2cf9-4d4e-ada9-f72d8602045e vga=off nvidia-drm.modeset=1 
           Desktop: Pantheon info: wingpanel, plank wm: gala dm: LightDM 1.30.0 Distro: Manjaro Linux 
Machine:   Type: Desktop Mobo: Foxconn model: H67M-S/H67M-V/H67M serial: <filter> BIOS: American Megatrends v: C29F1P03 
           date: 03/15/2013 
CPU:       Info: Dual Core model: Intel Core i3-2105 bits: 64 type: MT MCP arch: Sandy Bridge family: 6 model-id: 2A (42) 
           stepping: 7 microcode: 2F L2 cache: 3 MiB 
           flags: avx lm nx pae sse sse2 sse3 sse4_1 sse4_2 ssse3 bogomips: 24754 
           Speed: 1596 MHz min/max: 1600/3100 MHz Core speeds (MHz): 1: 1596 2: 1596 3: 1597 4: 1596 
           Vulnerabilities: Type: itlb_multihit status: KVM: VMX unsupported 
           Type: l1tf mitigation: PTE Inversion 
           Type: mds mitigation: Clear CPU buffers; SMT vulnerable 
           Type: meltdown mitigation: PTI 
           Type: spec_store_bypass mitigation: Speculative Store Bypass disabled via prctl and seccomp 
           Type: spectre_v1 mitigation: usercopy/swapgs barriers and __user pointer sanitization 
           Type: spectre_v2 mitigation: Full generic retpoline, IBPB: conditional, IBRS_FW, STIBP: conditional, RSB filling 
           Type: srbds status: Not affected 
           Type: tsx_async_abort status: Not affected 
Graphics:  Device-1: NVIDIA GF116 [GeForce GTX 550 Ti] vendor: Gigabyte driver: nvidia v: 390.138 
           alternate: nouveau,nvidia_drm bus ID: 01:00.0 chip ID: 10de:1244 
           Display: x11 server: X.Org 1.20.10 driver: nvidia display ID: :0 screens: 1 
           Screen-1: 0 s-res: 3600x1080 s-dpi: 96 s-size: 953x286mm (37.5x11.3") s-diag: 995mm (39.2") 
           Monitor-1: DVI-I-2 res: 1920x1080 hz: 60 dpi: 82 size: 598x336mm (23.5x13.2") diag: 686mm (27") 
           Monitor-2: DVI-I-3 res: 1680x1050 hz: 60 dpi: 90 size: 474x296mm (18.7x11.7") diag: 559mm (22") 
           OpenGL: renderer: llvmpipe (LLVM 11.0.0 256 bits) v: 4.5 Mesa 20.3.1 compat-v: 3.1 direct render: Yes 
Audio:     Device-1: Intel 6 Series/C200 Series Family High Definition Audio vendor: Foxconn driver: snd_hda_intel v: kernel 
           bus ID: 00:1b.0 chip ID: 8086:1c20 
           Device-2: NVIDIA GF116 High Definition Audio vendor: Gigabyte driver: snd_hda_intel v: kernel bus ID: 01:00.1 
           chip ID: 10de:0bee 
           Device-3: Creative Live! Cam Chat HD [VF0700] type: USB driver: hid-generic,snd-usb-audio,usbhid,uvcvideo 
           bus ID: 1-1.3:5 chip ID: 041e:4097 serial: <filter> 
           Sound Server: ALSA v: k5.9.16-1-MANJARO 
Network:   Device-1: Realtek RTL8111/8168/8411 PCI Express Gigabit Ethernet vendor: Foxconn driver: r8169 v: kernel port: d000 
           bus ID: 03:00.0 chip ID: 10ec:8168 
           IF: enp3s0 state: up speed: 1000 Mbps duplex: full mac: <filter> 
           Device-2: AVM Fritz!Card PCI v2.0 ISDN driver: N/A modules: avmfritz port: c000 bus ID: 05:01.0 chip ID: 1244:0e00 
Drives:    Local Storage: total: 1.35 TiB used: 361.33 GiB (26.2%) 
           SMART Message: Unable to run smartctl. Root privileges required. 
           ID-1: /dev/sda maj-min: 8:0 vendor: Intenso model: SSD SATAIII size: 447.13 GiB block size: physical: 512 B 
           logical: 512 B speed: 6.0 Gb/s serial: <filter> rev: 4A0 
           ID-2: /dev/sdb maj-min: 8:16 vendor: Seagate model: ST31000333AS size: 931.51 GiB block size: physical: 512 B 
           logical: 512 B speed: 3.0 Gb/s serial: <filter> rev: CC3H 
Partition: ID-1: / raw size: 438.54 GiB size: 430.65 GiB (98.20%) used: 103.37 GiB (24.0%) fs: ext4 dev: /dev/sda1 
           maj-min: 8:1 
           ID-2: /home raw size: 915 GiB size: 899.64 GiB (98.32%) used: 257.96 GiB (28.7%) fs: ext4 dev: /dev/sdb1 
           maj-min: 8:17 
Swap:      Kernel: swappiness: 60 (default) cache pressure: 100 (default) 
           ID-1: swap-1 type: partition size: 16.51 GiB used: 0 KiB (0.0%) priority: -2 dev: /dev/sdb2 maj-min: 8:18 
Unmounted: ID-1: /dev/sda2 maj-min: 8:2 size: 8.59 GiB fs: swap label: N/A uuid: 93a8c883-d1aa-4065-b4e4-3ebec6573726 
Sensors:   System Temperatures: cpu: 29.8 C mobo: 27.8 C gpu: nvidia temp: 56 C 
           Fan Speeds (RPM): N/A gpu: nvidia fan: 61% 
Info:      Processes: 219 Uptime: 1h 04m wakeups: 0 Memory: 7.74 GiB used: 2.79 GiB (36.0%) Init: systemd v: 247 Compilers: 
           gcc: 10.2.0 clang: 11.0.0 Packages: pacman: 1541 lib: 420 Shell: Bash v: 5.1.0 running in: io.elementary.t 
           inxi: 3.2.01